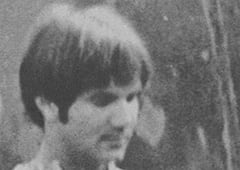 Neko Cholis knew Micky way back in college, when they used to stop for Cokes at the drive-in and go to all-night movies together. Now, after more than five years of friendship, Neko lets you in on his memories of Monkee Micky and the groovy times they spent together.
The first time I met Micky was about five years ago when I was attending Los Angeles Valley Junior College. At the time, he and another friend, Ric Klein, and I started hanging around together. Sometimes after school we would all get together and cruise around Grant High School. Micky usually had to pick up his sister Coco and her friends and take them home. On the way we would stop at the local drive-in for a Coke or hamburger.

Eventually Micky left school, but we were all still hanging around together on weekends. We would go into Hollywood on a Friday or Saturday night and drive up and down Hollywood Boulevard or Sunset Strip, looking for parties or just having a good time.
Sometimes Micky and the rest of us would go to an all-night movie and just completely raise the roof off the theater, laughing when everyone else was quiet. Sometimes we would talk loudly and everyone would hear us. We really had a groovy time, but we soon realized that this wasn't very mature and we began acting more grown up.
Sometimes there was a party, usually at my house. I remember always asking Micky to bring his guitar. He always thought it was his guitar I wanted to come and not him! We would all sit around and sing together or listen to Micky sing alone or with Coco. He has always been a very talented person in many ways—writing, singing, playing and talking.
Micky was always great at making people laugh. He could talk for hours and hours and never let you stop laughing. He would talk about anything he was thinking or something that came up during a conversation. He would tell you about his ice cube-maker in his refrigerator and how he used to try and catch it making ice cubes!
Then there was his dishwasher that he rewired so that he could leave the door open and watch it work. There was always something new he had done to occupy his time. I've always thought of him as a person who did everything he could to occupy his time when he wasn't sleeping or eating.
About three years ago he built a room above his garage where he used to live. He did it completely without any help from building contractors. The electricity and all the other things he did himself. He had switches for everything—turning lights off and on, turning the television on or changing channels, switches for the telephone and all of them ran from one board.
He always had something to do, and he still does to this day. He is now building a gyro-copter in his front room. A gyro-copter is more or less a one-man helicopter. He works on this till all hours of the morning, after working twelve hours on the Monkee set filming. He and his friend Tad are also building a recording studio downstairs. It is completely sound-proof and has everything that the big recording studios have. They are doing it without any help from the professionals.
When Micky first moved into his new house in the hills, there was a lot of work to be done on the grounds. So he did it himself, instead of hiring a gardener. He enjoys doing things on his own. He's still fixing his house up with new additions all the time. He feels there is a lot to building something. It gives you a great feeling of accomplishment when you have finished.
Micky did go back to school again for awhile. He, Ric and I went to a school called Los Angeles Trade Technical College. He and Ric studied architectural drafting and I studied Commercial Art. We went for awhile, but then Micky dropped out to do this new TV series called "The Monkees." He didn't know if it would make it or not but he took the part of the drummer.
For some time I didn't see him very often because I was busy at school and he was doing other things. Then, all of a sudden, I started going over to his new house in the Hollywood Hills every Wednesday to watch movies. This became quite a big thing. There were usually about twenty or thirty people over on Wednesday including Peter and Davy. This was where I met them.
This was also where I saw the pilot to the Monkees show. Micky got the pilot from the studio and we all watched it. It was then that I knew there was going to be a lot said about the Monkees. The same things were still happening then. Peter and Micky would play guitar and we would all sing. Sometimes Micky's roommate John London and a friend Bill Chadwick would play. Somebody was always playing and singing.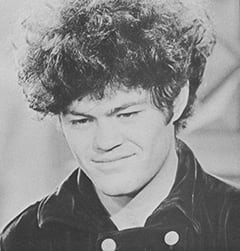 You know the results! Micky is very popular now. Times have changed a lot, but that always happens. Micky has changed a little but not much. He enjoys doing what he is doing. If he didn't he wouldn't be doing it. He loves his fans and feels sorry that he can't see them as much as he would like to. He signs autographs wherever he goes and wishes he could do more for his fans than he does if he only had the time.
It would take quite a number of pages for me to tell you all about Micky. All in all, I would say Micky Dolenz is one of the funniest, most talented persons I've ever met. I'd like to end this story with something I heard Micky say once that comes from his religion, Science of Mind: "Let there be peace on Earth and let it begin with me."