Here they are—some of the many TV stars you've been tuning in this season. 16 SPEC introduces you to some newcomers, puts the spotlight on some of your familiar faves—and waves goodbye to the shows that have moved to re-run land.
Mark Slade, Leif Erickson and Cameron Mitchell pose for the still camera during their coffee-break. They play the Cannon family in NBC-TV's successful shoot-em-up High Chaparral. (Mark and Cameron recently co-starred in a movie together.)
Here are the stars of CBS-TV's long-running series My Three Sons. Don Grady, Tina Cole (who plays Don's TV wife), Fred MacMurray, William Demarest, Stanley Livingston—with "Spud" and Barry Livingston in front.
ABC-TV's Rat Patrol just keeps rolling along, dodging the elements and out-foxing the enemy every Monday. Here are four of its bright young stars—Gary Raymond and Hans Gudegast on top, Lawrence Casey and Justin Tarr at bottom.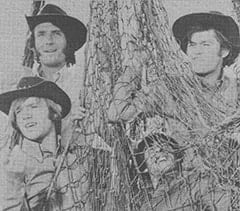 Dick and Tom Smothers have been keeping us in stitches all season long on CBS-TV's rib-tickling The Smothers Brothers Show. They appear here with a couple of their favorite comedians, George Burns and Jack Benny. What a wild group!
Handsome Frank Converse won quite a few fans on Coronet Blue—and doubled them when he moved to ABC-TV's N.Y.P.D. Tune in for bullets and bad guys every Tuesday and watch Frank (as Detective Corso) help justice triumph.
Tom Nardini plays John Henry, a resourceful Navajo Indian, in ABC-TV's Cowboy In Africa. With his friend, Chuck Connors, he herds hippos, brands buffalo, tackles tigers and lassoes lions every Monday night.
Look for Roger Moore as Simon Templar in NBC-TV's exciting mystery series The Saint when it slides in as a mid-season replacement. The Saint is an English TV series, starring an American actor, and should bring us a lot of thrills and chills.
Join 16 SPEC in bidding a fond farewell to NBC-TV's The Man From U.N.C.L.E. David (Illya) McCallum and Robert (Solo) Vaughn entertained us all for many seasons of suspense. (Who is gonna protect us from the evil members of T.H.R.U.S.H. now??)
You can write to these stars as E-Z as turning on your TV set. Address your letters to the star of your choice, include the name of the TV show, and send it to the address of the network the show appears on!
ABC-TV is located at ABC-TV Center, Hollywood 27, Calif.
NBC-TV is located at NBC-TV, Hollywood, Calif.
CBS-TV is located at TV City, Hollywood, Calif.
(Be sure to put "I Am A 16 SPEC Reader" on the outside of your envelope!)