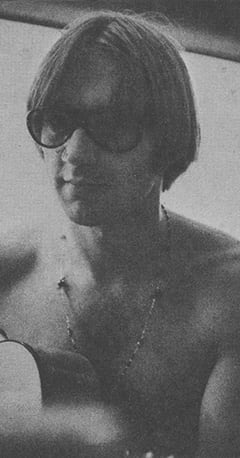 After what was (it turned out) our final year at Carleton College together, Peter went to the Village and I went home to Pennsylvania for the summer. We didn't know when we'd see each other again, but we made a vow to keep in touch. In two years at college together, we'd become especialy [sic] close friends.
In the fall, Peter didn't return to Carleton. This time, it was also pretty sure that he wouldn't be coming back. And during that year, my senior year, school was just a little less fun because Peter was in Greenwich Village strumming a guitar rather than up in the cold reaches of Minnesota hitting the books with me.
I didn't see Peter for about a year—the year I spent at Carleton. After I had been graduated (in the class Peter would have been a part of), I visited New York and made a beeline for Greenwich Village to track down Peter. He was pretty well known among the Village "regulars," and I found him in a club, playing the banjo and then passing it around for the people who had enjoyed his music to express it with a contribution. Most of the contributions were dimes and quarters. Whenever a generous soul would donate a dollar bill, Peter would let go with a grateful and loud, "SWISH!"

Peter hadn't changed very much—except for one thing. He was wearing bangs, cut the same size all around his head! Ho was living from hand-to-mouth. But he was doing what he wanted to do more than anything else in the world: Play music for people who appreciated it!
He always wore his favorite Alpaca Cape and blue sweatshirt with TORK embroidered on it. He was living in a dingy flat on Bedford Street, with a bright blue wall, odd-and-end furniture and a door which was never locked. Peter's friends were welcome at any hour of the day (or night)!
After that visit, I occasionally saw him again until he left for California, where, he was sure, everything was going to happen for him! Neither he nor I could have dreamed the California Dream that really has happened!
Beneath his exterior as a Monkee, Peter is a deep-thinking man whose mind travels widely and furiously. Now that he is secure (with no particular worries about job or money), I think that he will begin to even more deeply express his ideas. I am proud that I was with Peter, at college, when many of these ideas first began to develop. And I am even prouder to be able to call Peter my friend!