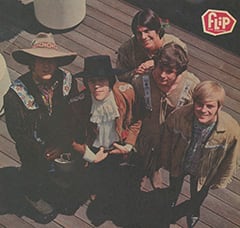 This is The Lewis and Clarke Expedition!
Lewis and Clarke are two Texas boys… and the Expedition consists of a close friend of Mike Nesmith's, a one-man orchestra and a former airplane destroyer!
In color, and in person, you'll meet one of the grooviest new groups on the scene…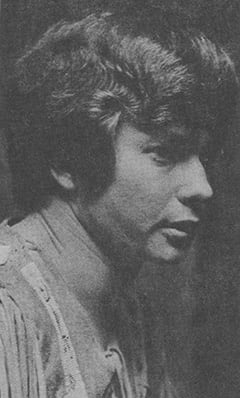 His real name is Owens Boomer Clark, but they call him Boomer. He was born in Westwood, California in 1947 but considers himself a Texan because he moved there when he was two months old—"My feet got itchy."
He lived in Midland, Texas with his folks until he was six—"I didn't have an apartment of my own then." Then he moved to Dallas and became interested in music. He joined a choir, as a soprano, and stayed with the choir for nine years before going on to Woodbury Forest School, where he sang with their men's choir for three years.
He took up the ukulele at Woodbury, played uke for two weeks before graduating to the guitar.
He began his rambling career in Dallas with a group called the Lost River Trio, then worked his way through several groups started by Randy Sparks, including the New Society and the Survivors, who didn't survive.
He enrolled in Occidental College in California for a while with a major in diplomacy, but left that for country music.
A little over a year ago, he got together with Travis Lewis and they signed with Colgems Records. Colgems had just started the Monkees then and wanted some sort of followup group to them, so the direction of Lewis and Clark changed from country to pop.
The two Texans, who'd been friends for over five years, then added John London, Ken Bloom and John Rains and the Lewis and Clark Expedition was on it's way.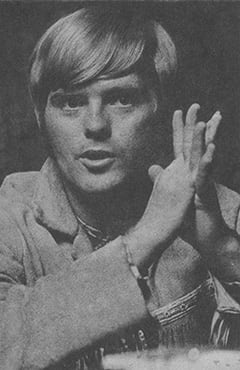 He prefers to be known as Travis Lewis, or just Travis, but he was born Mike Murphy 20 years ago in Dallas, Texas.
He had a fairly normal childhood and didn't become interested in music until he was 16. He lived for a while in Honolulu, went to school in Dallas, was a pretty good student and participated in several sports.
Then his grandfather gave him a guitar and "it was all over." He began as a folk musician, has worked his way through country music and is now in pop. He met Boomer over five years ago and says Boomer taught him to play guitar the right way.
He came to California in the summer of '65 just to visit and hasn't left yet.
"Texas was a little too hot, so I came out here to see what it was really like and I really dug it. I went to U.C.L.A. and I really dug that too."
He had gone to North Texas State University, which he describes as "slightly sheltered, to say the least."
When he transfered to U.C.L.A., he met Ken Bloom, got back together with Boomer and the expedition began.
"And gee, it's just been groovy ever since," he says.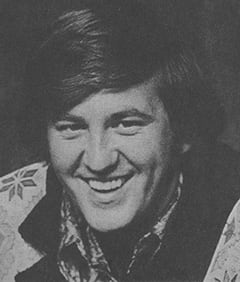 He was born John Kuehne, but changed it to John London when he and Mike Nesmith were together in a duo called Mike and John, which later became Mike and John and Bill. He changed it to London because people can spell and pronounce London.
He went to college in Texas and ran around with Mike Nesmith. Both he and Mike came out to California a little over three years ago and met up with Randy Sparks. He and Mike and Boomer were all with various Randy Sparks groups.
John has known Boomer and Travis since they were the Survivors, and then the Texas Twosome, the Boomer Boys and Boomer and Travis.
When Mike left to join the Monkees, John stayed with Randy Sparks for a while, but then Mike asked him to join him with the Monkees. For a while the Monkees took up most of John's time, but when they left on their last tour John had to decide what he really wanted to do, and he chose the Lewis and Clark Expedition.
He's 21, plays bass and is nicknamed "Thump."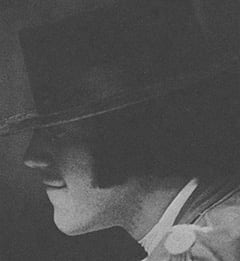 Kenneth Michael Bloom is already a shortened version of a fantastically long name, but it serves as Ken Bloom's full name. His family originally came from Germany, moved to Russia and then migrated to America around the turn of the century.
Ken was born in Los Angeles, Calif. and has spent most of his life there except for minor excursions including a European tour with the Robin Hood Band.
It began for Ken in the fifth grade when he took up the flute "because it was nice, it was easy to play, it was small, it wasn't hard to carry around, it was sort of a gas. But then I had to be the smart one and take up fifty million instruments and now I need a property crew to carry all my junk around. It's a pain in the neck, but I get bored playing only a few things."
Ken met Travis about a year ago at U.C.L.A., "He was the only kid in my English class who wore cowboy boots and that stuff to school, so I figured he's gotta be cool, so we started pickin' together."
At that point Travis and Boomer were working under the name Boomer Boys, which then led Ken into the Lewis and Clark Expedition.
John Rains Hoenig was born in Los Angeles on Nov. 8, 1948, is the Expedition's drummer and the last member to join.
He describes his childhood in Los Angeles as "the usual, building airplanes and blowing them up." He attended Canega Park High School and enrolled in Pierce College "because it was easy and I didn't want to go to U.C.L.A." He left after one semester.
The drums first came into John's life four years ago and he has studied with some of the best drum teachers in L.A. His first set of drums was 35 year old Ludwig set that cost him $135, which he later sold for over $200 to get newer ones, but he now wishes he still had that first set.
He had been playing and recording for three years when he met John London, who also played with the duo.
Then one day London called him up and they got together at a restaurant called Tiny Naylor's where London hypped John into joining the Lewis and Clark Expedition. They had had several drummers but none had worked out, so London told Travis and Boomer that he would find them a drummer. He then went out and talked John into the group.