FIFTEEN MAGAZINE
8383 SUNSET STRIP
HOLLYWOOD, CALIF. 90069
Would you like to win
A pillow case printed with a pic of HERMAN?
A personal tape made for you alone by MARK?
An adorable doll MONKEE with all 4 autographs?
Ten LP's autographed by all 4 SEEDS?
A hot bowl of spaghetti cooked by DINO?
A Picture Album crammed with pix of KURT?
Did lady luck make ure secret wish come true? Look & c!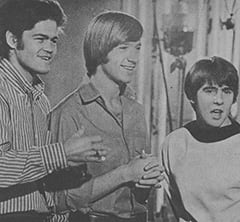 ANDREA DOLENZ of Daytona Beach, Florida is dying to know whether she's any relation to MICKY! Micky in his own handwriting prepared a brief chart for her, based on what he knew of his father's family tree. So far, the results are inconclusive. Micky was able to go back three generations to San Francisco, while Andrea's data left her stranded in Springfield, Ohio, after two generations. What happened before then is anybody's guess, but at least Andrea has a chart written in Micky's own handwriting to keep forever!
GRETA MAY LINDON of Dubuque, Iowa had a strange wish. She wanted MIKE NESMITH's Monkee cap. Mike explained to us that he has to keep the "one and only" Nesmith Wool Hat, out of sentiment, and for good luck. But he knows a little old lady who knits, and makes replicas of his gear headgear! He is having an exact duplicate made for Greta May, and he'll personally autograph a piece of tape in the headband and send it off next week when it's done!
BILL and CARLENE EDDY of Montreal, Canada were childhood sweethearts, born on the same day, and married on their 18th birthday. They want to pattern their married life after Sonny and Cher's, and wished for a good luck omen from this famous pair. What do you suppose they got? S&C sent them a set of their groovy, matched his-and-her garbs. Carlene's fit perfectly, and Bill's needed only slight alterations. So now they are the toast of Montreal whenever they go out on the town!
LILAINE PERVIS of Little Rock, Arkansas, wanted a lock of MARK LINDSAY's flowing mane. Mark came to the office, we clipped it, tied a blue ribbon around it and mailed it out to her, and by this time it's probably in her memory book, along with Elvis' autograph—which she already had!
BETTY JO BILLINGS of Los Angeles says she is a dedicated teeny bopper and a true fan of all the singing groups. She goes to all the concerts when they play locally, but has never yet been lucky enough to catch anything they throw out into the audience. Once, at Melodyland in Anaheim, she almost caught RICK ANDRIDGE's drum sticks after a SEEDS concert, but fumbled, and somebody else snatched them up. To Betty Jo, Rick will personally send another pair of drumsticks which he'll save for her and her alone, after his very next concert!
Magazine: Fifteen
Published:
Volume: 12
Issue: 11
Publisher: I.D. Publications, Inc.
Pages: 40–41