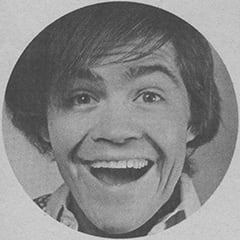 There are many things in Micky's short life that have made him jump for joy—but one special day has to be his happiest. And that was the day when his biggest dream came true! Find out how Micky made it happen.
Have you ever had one big dream that you worked constantly for? A dream so real to you that you used every single moment to get a step closer to your goal? When dreams such as these come true you're very happy because you've achieved your goal entirely through your own efforts. It's a wonderful day.
Micky, like all of us, had a biggest dream, too. He wanted to be the best entertainer and comedian in show business. Unfortunately, just being "the best" is not enough because if the actor doesn't have the right shows and personal appearances no one will ever be able to see what he can do. Micky's biggest dream was to be on a show where he could really be the good comedian he'd worked so hard to be.
He'd worked as long and as hard as he could to become a good entertainer. For years, since his Circus Boy show had gone off the air, he'd worked every single day on his comedy routines, practicing constantly on his family and friends. He spent his spare time watching television, studying the people, learning how they got the effects they wanted to get. Every day when he dressed and undressed he spent that time in front of the mirror, trying out various faces and routines. When he drove down the street he practiced and when he was waiting for an elevator he practiced. By the time he got out of school he was a very good comedian.
Finally he saw the advertisement that announced the auditions for the Monkees. Micky went down and, because he'd worked so hard and become so good, he was chosen to be a Monkee. This wasn't the dream he'd been working for, though, because the show hadn't been sold to a sponsor yet. Until a TV show is sold it doesn't mean much for, without a sponsor, the public will never see the program. The Monkees worked very hard for many months before they made that first film. When the film was at last completed the producers of the show took the film to a group of teenagers to be tested. The teenagers didn't like it, and the producers knew the show wouldn't sell then. Micky was very unhappy because he believed in the show and he knew that it was what he'd been looking for. The producers wouldn't give up though.
They rewrote the show and then filmed it all over again. Micky was very anxious this second time—he knew that the show was good, but would the sponsors? This time the show sold and the Monkees were on the air.
Micky's happiest day had come. He'd gotten the dream he'd worked so hard for and now the public could see what he really could do. The public loved Micky and today his fans everywhere in the world are happy that Micky thought so much of them he devoted his life to entertaining them. Micky's happiest day made millions of his fans happy, too.