His private life
His friendship with Mike
His love of privacy
His secret ambition
His uneasiness with Micky
His 33-inch chest
And more
Well, I'm back! HULLABALOO liked my Davy Jones story so much last month that they sent me after Peter Tork this month. So I called Peter: "How about flying to New York and…"
"Look, Miss Johns, maybe Davy gets all shook up when he speaks to a writer chick from the big bad city, but if you want an interview with me…"
I was met at the Los Angeles airport by some press-agenty guy smoking a vile cigar who chewed my ear off all the way to Beverly Hills.
When I got to this big stucco house that looked like a Mexican fortress, I was mad. I guess Davy's trip to see me in New York spoiled me. Anyway, I slipped into a pool-side cabana where I changed to a bikini furnished by my host. When I emerged, Peter was lounging in a pool-side chaise, sipping on a long cold drink. I decided to be aggressive.

Q. Afraid to fly?
A. Only to you, baby.
Q. Do I look so bad?
A. A little plump.
Q. What kind of remark is that to make to a girl who flew all the way from New York just to see you?
A. Plenty of people do that.
Q. Boy, I don't know why they say you're the quiet Monkee?
A. I only give five-word answers.
Q. You're putting me on!
A. Only if you want me to.
Q. Look, what if I cry? Will you pity me then? My job depends on it. My boss says…
A. Sorry. You used that line on Davy last month.
Q. Well, my first fact: the Monkees do talk to each other when they're not working together.
A. Since you tricked me into giving you a bit of information I might as well explain that. Mostly I like to keep to myself. My folks have some great country digs in Saskatchewan, Canada. I like to get up there with my guitar and doodle.

Q. Do you compose your own music?
A. I'm a simple, uncomplicated person. I don't have to go creative just to make a phony image of myself. I just like to play my guitar, and that's all. I love music.
Q. That's nice, but you still haven't explained about the Monkees life together off the set and away from the recording studio.
A. I really get along with Mike best. He's married and enjoys his evenings at home with his family. My favorite date is to stop by his place, have some coffee, play cards, and listen to groovy music.
Q. What about Micky and Davy?
A. Micky is too wild for me. Sometimes we go bowling or surfing together. But Micky likes to make a lot of noise, and that always attracts people and autograph hounds. It embarrasses me.
Q. You don't like to sign autographs?
A. On the contrary, I do. When I'm on the job, out with the group, I consider it an obligation to sign autographs. I even read most of my own fan mail personally, when time permits. I even answer a few letters and send personally-signed pix. I enjoy that kind of private, personal contact with the kids.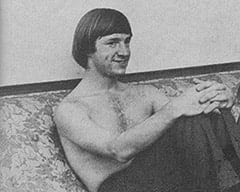 Q. Do you like Davy?
A. That's a silly question. We all like each other or we wouldn't be able to romp together and make it seem believable. Davy and I like to get away for a Sunday morning round of golf. Davy's got a cool pad a few blocks off Sunset Strip… No, you can't have the address… And sometimes we have great parties up there.
Q. Aren't you physically strong?
A. I've had all the usual childhood diseases, some of them pretty rough. I'm strong now, but during those long bouts in the sick bed, I got used to not playing with other kids. I took to reading and learning the guitar.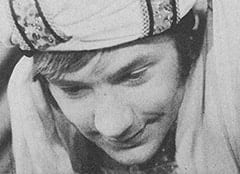 Q. You look sort of underfed in your bathing suit.
A. I was never a muscle guy. My chest is only 33 inches while my waist is 30 inches—not much of a "V" shape there.
Q. Do you still read a lot?
A. I read novels. James Bond and mystery thrillers really turn me on. Some of my reading gets pretty deep sometimes. The Sayings of Buddha really knocks me out.
Q. Any other diversions?
A. Movies. I really got on a kick after the Beatles flick. Woody Allen really flips me. Did you see Casino Royale? Absolutely the greatest. And Michael Caine is super cool.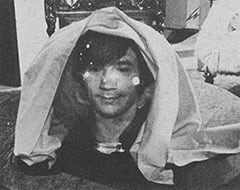 Q. Would you like to be an actor when you grow up?
A. Grow up? Heck, I've been there already and back. My ambition is to be President of the United States.
Q. Of Brazil?
A. Of America.
Q. Seriously?
A. Someday I want to go into politics. And I want to be on top of that heap, too.
Q. That doesn't sound like the modest Peter Tork we all know and love.
A. Why can't a modest person be a perfectionist? Everything I do must be done well.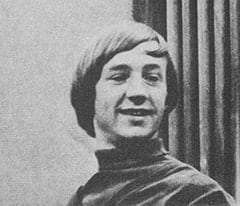 Q. Hey, what are you doing?
A. I'm picking you up and carrying you over there.
Q. What's over there?
A. The pool.
Q. Is this the end of our interview?
A. Glub.
Magazine: Hullabaloo
Author: Cynthia Johns
Editor: Gerald Rothberg
Published:
Volume: 2
Issue: 5
Publisher: YAM Publications, Inc.
Page: 51