Say "hello" to the stars of the new shows
Here they are! Meet the stars of the new TV shows—welcome back your old faves—and say goodbye to the shows that have moved to re-run land! Here are the fax—the name—network—and times! 16's SPEC goes all out for YOU!
Sally Field is the star of ABC-TV's The Flying Nun. You can watch her soar into the wild blue yonder every Thursday night from 8 to 8:30.
Mark Slade battles the Apaches as Billy Blue Cannon on NBC-TV's High Chapparal. You can watch him do his stuff every Sunday night from 10 to 11.
Tom Nardini will be lassoing lions on ABC-TV's Cowboy in Africa every Monday night from 7:30 to 8:30. Tom plays the part of John Henry.
Sajid Khan and Jay North travel through many jungle adventures with a friendly elephant in NBC-TV's Maya. Join them on Saturday nights from 7:30 to 8:30.
Robert Hooks, Frank Converse and Jack Warden play cops and robbers on ABC-TV's N.Y.P.D. Tune in for thrills on Tuesday nights from 9:30 to 10.
Dack Rambo climbs into the saddle every Friday night from 9:30 to 10 on ABC-TV'S new Western series, The Guns Of Will Sonnet.
Wayne Maunder battles the Indians and the elements on ABC-TV's The Legend Of Custer. Stay away from the Little Big Horn, Wayne!
Ralph Taeger contributes to the taming of the West on ABC-TV's Hondo. He'll be dodging bullets and bad guys every Friday night from 8:30 to 9:30.
Ron Harper plays Lt. Craig Garrison on ABC-TV's World War II action epic, Garrison's Gorillas. Watch him out-fox the enemy Tuesday nights from 7:30 to 8:30.
Say "hello, again" to the stars of the shows that are back again!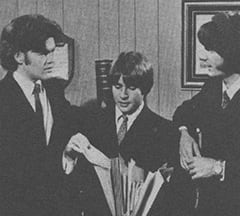 Peter, Micky, Davy and Mike will be back with a whole new bag of tricks on NBC-TV's The Monkees. For music and laughs, tune in Monday nights from 7:30 to 8.
William Shatner and Leonard Nimoy will explore the universe again on Star Trek. You can follow their adventures in space every Friday night from 8:30 to 9:30 on NBC-TV.
Bob Random has another ticket to ride the rough-and-tumble railroad on ABC-TV's The Iron Horse. You can ride along too every Saturday night from 9:30 to 10:30.
Justin Tarr, Chris George and Larry Casey will be kickin' up the sand again on ABC-TV's The Rat Patrol. Watch them on Monday nights from 8:30 to 9.
David McCallum and Robert Vaughn are in NBC-TV's The Man From U.N.C.L.E. Watch them thwart T.H.R.U.S.H. every Monday night from 8 to 9.
Yale Summers and the rest of the Daktari gang will be back on CBS-TV every Tuesday night. Watch Yale and his jungle friends from 7:30 to 8:30.
Lee Majors rides again on ABC-TV's smash Western series, The Big Valley. See Lee help the good guys every Monday night from 10 to 11.
Marlo Thomas continues her struggle as a light-hearted young actress in New York when That Girl returns to ABC-TV. Laugh with her on Thursday nights from 9 to 9:30.
Dennis Cole is still on the side of law and order in ABC-TV's Felony Squad. See justice triumph every Monday night from 9 to 9:30.
Bill Cosby and Robert Culp have some brand-new wisecracks on NBC-TV's I Spy. They'll be doing their snooping every Monday night from 10 to 11.
Dick and Tom Smothers are back to tickle your funnybones every Sunday night on CBS-TV. Laugh along with them from 9 to 10 on The Smothers Brothers Show.
And say "goodbye" to the stars of the TV series that are gone—but not forgotten!
Noel Harrison and Stephanie Powers leave the battle against T.H.R.U.S.H. to Napolean and Illya. NBC-TV's The Girl From U.N.C.L.E. was a lot of fun.
Keith and Kevin Schultz, Michael Anderson, Jr., and the rest of ABC-TV's The Monroes will all be following separate careers now. You'll be seeing them soon.
David Janssen has been proven innocent at last, but we have a feeling that ABC-TV's The Fugitive will be re-running for some time.
James Darren took us on trips to the past, present and future on ABC-TV's The Time Tunnel. We had the time of our lives watching you, Jim!
Diana Rigg and Patrick Macnee, stars of ABC-TV's The Avengers, are taking a little vacation. There is a good chance that The Avengers will be back next season. Hope so!
Frank Converse made a big hit with 16 readers on CBS-TV's Coronet Blue. The series is gone—but Frank is back on ABC-TV'S N.Y.P.D. Sure glad we didn't lose you too, Frank!
Rick Nelson gave us a lot of summer fun on ABC-TV's summer series, Malibu U. Thanks for the "education", Rick!
ABC-TV's Where The Action Is deserves a very special Goodbye. Action introduced us to some of the biggest recording stars in the business. Thanks for all the fun, songs and dancing. We'll never forget you!
You can write to these stars as E-Z as turning on your TV set. Address your letters to the star of your choice, include the name of the TV show, and send it to the address of the network the show appears on!
ABC-TV is located at ABC-TV Center, Hollywood 27, Calif.
NBC-TV is located at NBC-TV, Hollywood, Calif.
CBS-TV is located at TV City, Hollywood, Calif.
(Be sure to put "I Am A 16 Reader" on the outside of your envelope!)