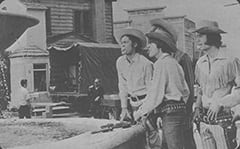 See them NOW in scenes from brand-new Monkee TV segments to be aired this fall—
With not-to-be-believed stories and dialogue supplied exclusively for your entertainment by 16's SPEC!
Two-gun Micky—the slowest rope in the West!
Wrongway Dave—or how not to mount a horse! (with no help from puzzled Peter)
The six-shooter that went thataway! (starring (?) Dead-eye Davy)
Peter Tork—wanted dead or alive
Davy's secret sweetheart?
The wooing and winning of editor Gloria
Peter in Paris—or never let Monkee loose!
Lost in the jungle or is this any way to run a safari? (starring Micky, Peter, Mike and Davy)
Did anybody here see a rabbit? (starring Peter—the missing magician)
The mad, mad, mad world of Monkee-land!