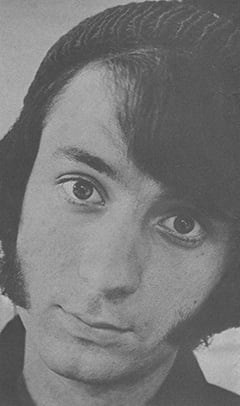 "Togetherness" is the word that best describes Mike's life—a happy togetherness of Mike, Phyllis, Christian, their two dogs "Spotte" and "Frack"… and YOU, their very favorite guest!
If you were a fly on the wall of Mike Nesmith's beautiful $280,000 hilltop estate, you would have to wake up bright and early not to miss any of the action—for when Mike has the day off, it's guaranteed to be action-packed. Mike is up and out by 6:30 A.M.—and off to the shooting range he is building on his property. He spends about an hour working on the targets he's constructing, and then he spends another hour practicing his marksmanship with one of the guns from his new collection. If you haven't guessed by now, Mike's latest craze is collecting guns and his newest ambition is to be a sharpshooter.
It's 8:30 or so by the time Mike gets back to the house, but Phyllis is already preparing his breakfast. She knows that he'll be plenty hungry today, so she's made him a real Texas-type eye-opener. First, Mike has orange juice; then fresh strawberries with cream, followed by a bowl of chili with scrambled eggs and hashed brown potatoes. All of this is topped off with a large glass of cold milk.
Early in the afternoon, Mike, Phyllis and Christian go for a ride in their new Mini-Cooper. "Spotte" and "Frack", the Nesmiths' two large dogs, are not left out of the fun. They're almost as tall as the Mini-Cooper is, and they love "running along beside the car". The dogs and car running together create quite a spectacle, and more than once a passing vehicle has almost careened off the dangerous winding hillside curves as the driver gawks in amazement at "the circus of Mr. Nesmith."
A leisurely evening with the Nesmiths will probably find you dining at a very fine French restaurant in Beverly Hills. After a delicious dinner, Phyllis and Mike will take you to see the Penny Arkade, a new group Mike is sponsoring—the leaders of which are two adorable boys named Chris and Craig. Tonight, the Penny Arkade is appearing at the Spectrum, one of the Sunset Strip's liveliest clubs. While you're sitting there, the "Monkee crowd"—consisting of Davy Jones, David Pearl, Micky Dolenz, Henry Diltz and Peter Tork—comes pouring in. And the last thing you remember about a day in the life of Mike Nesmith is this fabulous high point of music, talk and friendship. The Monkee brigade has turned out to be just like you always thought they would be—a regular fun-loving gang of groovy guys.