Micky Dolenz

I guess you all heard about me having my tonsils out last May. Well, it was really quite an experience and it made me realize how important it is to stay healthy.
After being so active for so many months, it came as quite a shock to me to have to lay in that hospital bed and do nothing. This got me to thinking about how many people all over the world have to do this. Then, when I felt a little better, I started listening to my record player and watching some television. Without these two inventions, life would have been really grim in that hospital.
But what I'm getting at is that I'm glad to be well again and I'm concerned about people who aren't well. In a way I hope by being a Monkee and trying to entertain people, I can make it easier for any one who's bedridden. Micky also feels this way because at one time, he couldn't be as active as he is now because of being on crutches. Thanks to all of you who sent me get well cards. I wish I could have answered all of them personally.
As you know, we're touring now and it really is the highlight of my life so far. There are so many little things that happen along the way that I wish I had time to keep a diary to tell you about them. One thing I would like to mention is the warmth of the fans. They don't seem to be so wild as on our first tours. Instead they're happy, friendly, enthusiastic and encouraging. This makes life even more fun because we can tell by their reactions that our music really means something to them. I only wish we could meet all of you personally on our personal appearances.
Love
"Honest"
Mike Nesmith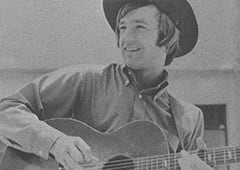 Well, since Micky talked about me this month, I guess you think I should talk about Micky. Well, I'm not going to. Instead I'm going to talk about the Monkees as a group!
Since we haven't been a group for too long, there's been a lot of talk about us getting to the top too quickly. Well, it's true. Success came quickly for us as a group, but I would like to tell you that each of us worked many years on our own before we joined the Monkees. These years weren't always easy, but they did prepare us for what lay ahead.
I can honestly say that we never have any serious disagreements. Sometimes, we get overtired at a recording session and argue about different songs we're going to sing, but when it comes to personalities, we don't have any trouble at all. In fact as we get to know each other better I think we get along much better.
You'd think being together so much would be hard to take, but it isn't. It seems that as each day passes there's a little more to find out about each other.
On the set we don't spend too much time together unless we're in front of the cameras. When a special guest comes on the set then we all get together and meet them, but usually we go into our own dressing rooms and do what we want to do.
Sometimes after work we do go to each other's houses, but that's not usual. I think this keeps us on a more even basis, too. When we do get together socially, then it's more fun. We get to see the new things at each other's houses and things like that.
If we ever do break up as a singing group you can be sure that we'll never break up as good friends. I don't think I could find any finer friends than Micky, Davy, and Mike.
Peter Tork
Magazine: Tiger Beat
Author: The Monkees
Editor: Ralph Benner
Published:
Volume: 2
Issue: 12
Publisher: New Asbury Ltd. Publishing Co.
Pages: 54, 56