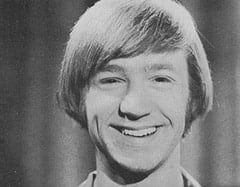 Here we are with the third segment of the Monkee Super Pinup series TS is printing due to popular demand. We've already seen Davy and Micky, and in this issue Peter Tork occupies the place of honor.
A few years ago Peter Torkelson [sic], the son of a college professor, was a folk singer and guitarist in New York's Greenwich Village. Today he's known as Peter Tork, and is one of the groovy Monkees.
Born in Washington, D.C., Feb. 13, 1942, Pete is the oldest Monkee, but the one with the cutest dimples. He has sandy hair and soulful brown eyes.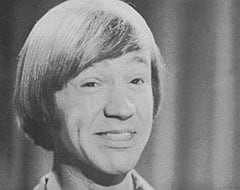 Pete had always liked music, but tried college twice, thinking he'd rather be an English teacher. He changed his mind. Then Greenwich Village beckoned him, and guitar in hand, he joined the folk crowd. The Village crowd then consisted of the Lovin' Spoonful, and the future Mamas and Papas, among others. All have remained friends especially since both Pete and the Mamas and Papas have been transposed to Hollywood.
Since joining the Monkees, Peter has taken up electric guitar, but still entertains in concert with some magnificent banjo work.
Don't miss the next issue of TS, which will feature the fourth Monkee. A giant color pinup of Mike Nesmith!