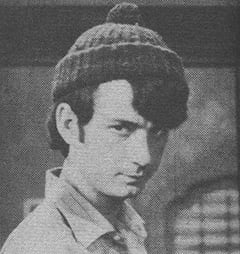 Got any questions about the stars? write to Granny c/o Hit Parader Charlton Building Derby, Conn. 06418
Bob Dylan's wife is expecting. Isn't that nice? . . . Is it the end for the Mama's & Papa's? I hope not, but their future looks cloudy . . . Are Davy Jones and Don Kirshner feuding with Micky, Peter and Mike over the way the Monkees should be recorded? . . . On the last concert tour together Spencer Davis and departing vocalist Stevie Winwood had separate dressing rooms . . . Did you know that Byrd Jim McGuinn is married? Sorry about that . . . The Turtles take their first trip to Europe this summer . . . Karl Green, of Herman's Hermits, got married. Congratulations, Karl! . . . The latest Bob Dylan rumor which his friends are denying is that he has a mental block and is unable to write songs. MGM Records says he hasn't signed with them. Capitol Records is still making offers. I hope you're ok, Bob . . . The Beach Boys sent me a letter full of nice news: "It has been baby-time in three Beach Boy homes. Dennis' wife Carol recently gave birth to a daughter, Jennifer Beth. Al and Linda Jardine have a son, Matthew. Mike and Suzanne Love have a new daughter whom they have named Hayleigh Caine.
"The Boys are moving house: Mike has already signed the deeds to his—a modest 200,000 dollar retreat in Coldwater Canyon, Beverly Hills. This is Suzanne's dream house, and Mike's decision to buy was taken suddenly on the group's 1966 tour of Britain. He phoned his wife at breakfast time six thousand miles away and said: 'Go look at the house again—we'll buy it!' Mercury never flew so fast as Suzanne . . .
"Al and Linda are still looking for their next resting place. They—like Mike and Suzanne—have set their minds on Beverly Hills. Though they like living out at Manhattan Beach—it is a long way from the music 'scene' and Hollywood. 'It's good for the image,' says Mike.
"Bruce Johnston has written, composed and produced a song for Britain's Graham Bonney. It is called, "Thank You, Baby" and is released by EMI of Europe."
Thanks for writing to your old Granny! They're such nice boys . . . Now that the overpowering guitarist Mike Bloomfield has left the Paul Butterfield Blues Band, Paul's harmonica, Mark Naftalin's organ and Elvin Bishop's guitar are more dominant. They're such nice boys. I saw them at the Cafe Au Go Go, where they packed the club every night. I was surprised to learn that Mark's father is the mayor of Minneapolis. Mike Bloomfield is forming a group with organist Barry Goldberg and it should be a terrific band. Barry's been busy playing on a lot of Mitch Ryder recording sessions . . . Will Mick Jagger and Keith Richard be allowed in this country again after all that nasty publicity in England? Donovan is having similar problems. Such a pity . . .
The Clear Light, a zowie new group with two drummers, created a lot of excitement at the Easter Love-In in Los Angeles. You can hear them soon on Elektra . . . The Who had to pay for the twelve microphones they broke during the 10-day Murray the K show in New York. They had a really wild act. Pete Townshend broke three guitars. See the Who interview in the next Hit Parader . . . Generally, the Murray the K show was disappointing. Although it featured Mitch Ryder, Wilson Pickett, the Blues Project, Jim & Jean, the Mandala (with their really corny "soul crusade"), the Hardly-Worthit Players (they do Senator Bobby), the Chicago Loop, the Who and the Cream and one-night-only guest stars Simon & Garfunkel, the Blues Magoos and Phil Ochs, with the Rascals, and the Vagrants added in a desperate last-minute attempt to save the show, audience reaction was apathetic. Except for the guest stars, none of the acts had more than ten minutes on stage. Some did only one or two songs. The films being projected while artists were performing were distracting. It was a bad scene . . . The Lost Sea Dreamers are the best group the Night Owl has headlined in a long time. Go to see them and say Hi to Joe Marra . . . Was Cass Elliott ever married to Jim Hendrix, who was once with her in the Big Three? Jim is now leader of The Lamp Of Childhood . . . Coming Attractions: The movie version of Lerner & Loewe's fabulous musical "Camelot" opens in New York on October 25. The screen classic "Gone With The Wind", which, despite popular rumor, has never been shown on TV, will be re-released this October, for the seventh time since 1939 . . . Most Ridiculous Title Of The Month: "Darling Lili, Or Where Were You The Night You Said You Shot Down Baron Von Richtofen," starring Julie Andrews, begins filming early next year . . . The Merson Musical Products Company asked Frank Zappa and the Mothers to try a few of their instruments and perhaps endorse them in an ad. Frank wound up designing a new line of amplifiers for them and planning a large advertising campaign for all the instruments . . . News happens so fast and it takes six or eight weeks for magazines to be printed and distributed so everybody probably knows that Jim "Harpo" Valley left Paul Revere & The Raiders and that Drake Levin rejoined them temporarily for a tour, so I'm not even going to mention it . . . British musical star Tommy Steele, last seen on Broadway in "Half A Sixpence," will play the leprechaun in the movie "Finian's Rainbow" . . . Ron Hicklin, Al Capps and Stan Farber, who've been the background voices on many pop records, deserve some credit for the success of the Monkees, if you know what I mean . . . The Byrds are making plans to star in a movie . . . The Beach Boys formed a new company, Home Movies, to produce TV and motion picture films starring themselves, with original music by Brian Wilson. Their record company, Brother Records, has set up offices on Sunset Boulevard in Los Angeles . . . If you want to hear how funny and perceptive Lenny Bruce was, dig the Lenny Bruce Carnegie Hall Concert on United Artists Records . . . I'm sorry to hear that the Steve Miller Blues Band broke up . . . Ray Charles made a two-week European tour recently with concerts in Paris, London, Stockholm, Milan, Frankfurt and Berlin . . . Circumference Records has signed the Fluffy White Doggie, an exciting new group with two beautiful blonde vocalists and a singing, songwriting pianist who also plays French horn . . . The Peanut Butter Conspiracy opened the new Los Angeles Cheetah discotheque. The club was formerly the old Aragon Ballroom where Lawrence Welk once dispensed bubbles: a-one, a-two. The times, they are a-changin' . . . The Chambers Brothers broke all kinds of records at the Fillmore Auditorium in San Francisco and they'll be on the West Coast through most of the summer . . . One West Coast group, the Mothers, did so well in their 10-day concert series at the Garrick Theatre in Greenwich Village that they rented the theatre until September 4, 1967 and will wail there all summer long . . . Elvis Presley won't appear at Canada's Expo 67, but he's sending his guitar. I won't be there either, but I'm sending them my rocking chair. Frank Zappa may send his mustache. Why don't you send them something . . .
Folk music is really, really big in Japan. Judy Collins did a 3-week tour there in May . . . The Dave Clark Five haven't had a record on the British charts in over two years . . . Brigitte Bardot tossed a party in Paris for Trini Lopez. He's a nice boy . . . The Walker Brothers have renewed their work permits in England and are again driving the little girls wild . . . Gordon Waller plays a disc jockey in a play on the BBC-TV. It looks pretty serious between Gordon and Sharon . . . The Kinks recorded half of a live album in Glasgow, Scotland, the other half in Paris . . . Three Monkees are happy with their new record producer, Chip Douglas . . . Remember the puppy that appeared while the Lovin' Spoonful was singing, "Do You Believe In Magic?" on the Ed Sullivan show? It's Orpheus, a 9-month-old St. Bernard, and he's the latest addition to John and Lorey's menagerie. On July 1, Mr. & Mrs. Sebastian and their zoo move into the 268-acre Hermits Hill Farm in New England. There's a 10-horse stall in the barn which they'd like to fill . . .
Paul McCartney flew from London to Denver, Colorado to attend Jane Asher's twenty-first birthday party. Jane is touring the U.S. with the Bristol Old Vic Company. One of her roles is Juliet in Shakespeare's "Romeo and Juliet" . . . Mick Jagger's girlfriend, Marianne Faithful made her London stage debut in Chekov's "The Three Sisters" . . . Granny Goes To The Movies: "The Taming Of The Shrew" starring Richard Burton and Elizabeth Taylor is a colorful, lively, hilarious frolic. The photography, costumes, settings and the acting are all magnificent. You must see it. "The Happening" is about four beach party drop-outs who kidnap an ex-Mafia mobster played superbly by Anthony Quinn. The gangster's wife, his business partner and his old Mafia buddies refuse to pay the ransom, so he convinces the kids to help him seek revenge. The action swings from comedy to tragedy and back again, and the ending is a scream. "In Like Flint" starring James Coburn, is not as good as "Our Man Flint," but it has its moments, particularly the satire on actors in politics.
"Divorce American Style" skips between satire and seriousness as it dissects several marriages on the rocks. I was shocked to see that nice Dick Van Dyke cheating on his wife (in the movie that is). Debbie Reynolds, Jason Robards, Jean Simmons and Van Johnson also star. That's enough movies for now . . . Nora Guthrie, teenaged daughter of Bob Dylan's idol Woody Guthrie, will soon be making records under the supervision of John Sebastian and Jack Lewis . . . Lots of top groups are having internal problems. There should be some interesting developments next month . . . Stay cool, stay clean, if you know what I mean. Bye, dearies.