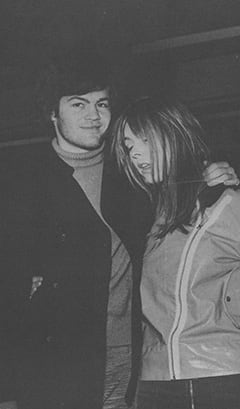 Samantha Juste is her name!
Flip's London reporter Jeremy Pascall gives you the day-by-day diary of this very real Monkee love…
The London night-clubs are nightly meeting places for stars, actors and models. Clubs like the Scotch of St. James, the Cromwellian and the Speakeasy are famed throughout the world as where London really swings. It was for these nightspots that Micky Dolenz headed as soon as he had a free evening in London, and it was in these groovy hangouts that top teenage model Samantha Juste was often seen.
Sammy is a cool chick. Not only is she a top fashion model for the under twenty-ones but also she is the disc spinner on BBC's top teenage show "Top Of The Pops." Micky met Sammy, who is quite used to the British pop idols, at one of these scenes and they achieved immediate communication. They had a great evening together and, so it seemed to us, that was that.
But one Thursday evening, Micky and I went out to the BBC's studio in London's Lime Grove for Micky and Mike to make a guest appearance on the show. Sammy wasn't featured that night but she was in the audience.
The appearance of Micky and Mike was a well-kept secret known only to a few of us. Micky had sworn me to secrecy about the whole thing because he wanted to burst onto the scene in his usual spectacular way.
The program progressed as usual. Star after star appeared and the studio audience, sensing something special was coming because of the strict security precautions, was getting more and more excited.
Micky and Mike, with his charming wife Phyllis, were due on last of all. As excitement mounted, studio officials struggled to keep back the audience, which had guessed that somebody as important as the Beatles or the Monkees were to appear.

As the program drew to a close, many of the girls around me, including Gene Pitney's new wife Lynn, were getting more and more restless until suddenly, through the huge, thick, soundproof doors of the studio, Mike and Micky unexpectedly appeared!
The place erupted! Girls surged forward to greet their new idols while uniformed attendants struggled to hold them back.
Mike and Micky were greeted by top dj Jimmy Savile (Savile was later revealed to be one of Britain's most prolific sex offenders) and fully expected the usual quick, gag-a-minute Dolenze routine. But I was wrong… for Micky had caught sight of Sammy, in the sea of upturned faces.
Instead of answering Jimmy's opening questions, he pointed straight at the lovely model and said: "Hey! That's the girl! There she is!"
And that was it. For the remainder of his stay, Micky and Sammy were constant companions. Seen at all the groovy clubs whispering to each other, laughing together in quiet corners, exchanging little intimacies when nobody was looking.
The new romance was the talk of London's pop world. But Sammy and Micky could only spend a couple of days together because the Monkee had to go to Scandinavia for a weekend. While he was over there, Micky tried his hand, and lost his feet, at skiing, tobogganing and streaking down the cresta run. After three days, he wanted to return to the comparative peace and quiet of London. Micky sneaked into London's Heathrow airport on an unpublicized flight one Sunday afternoon, was picked up by the London chief of Screen-Gems, Jack Magraw, and slipped, unknown to all but Jack and myself, to Jack's London pad.
As Jack later told me (I was out of town at the time), Micky spent a really relaxing week in private.
"Micky just sat around the house winding down. He listened to a few sounds, read some of my books, watched TV and some of the films I ran on my projector and drank me outa Cokes.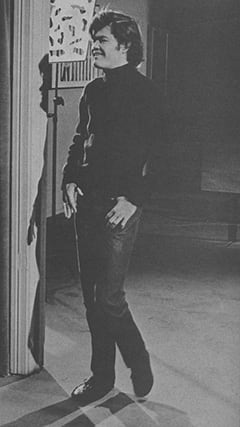 He got very big on painting while he was here and he and Sammy dabbled around with paints in my flat. The stuff they did wasn't exactly abstract but it was full of wild colors—a reflection of Micky's personality, I suppose.
"They really messed up my coffee table with their paints. In fact, I have an original Dolenz coffee table to sell you!"
In those few stolen days, Micky and Sammy made their own scene. Unknown to the fans and press alike, only a few of us were aware of the romance that lay behind Micky's period of rest. The couple appeared rarely in public. They ate the typically English fish and chips from a shop around the corner, went secretly to a few intimate clubs and appeared at only one public function in the swish London Hilton overlooking Buckingham Palace.
But soon the time came for Micky to go and before he left he 'phoned me at the office to say just how happy he had been with us over here. I asked if he and Sammy had found time to be together away from the ever-present eye of the camera.
"Sure," he said, "We've found London a great place to be alone. I've had the greatest time over here. In Hollywood it's so difficult with all the filming and recording. I only get an hour free to meet girls—and what can you give a girl in an hour a day? It's not fair on her."
Sammy saw her tame Monkee off at the airport. It was a sad parting, but as she told me later she loves Micky for what he is, not for what he represents.
"I go out with Micky because he's a person, not because he's famous, and not because he's a Monkee. I believe one's private life is one's own. So does he. He is very thoughtful, kind and jealous and you can't say that about all pop stars, however much money they earn."
And as Micky said to me about Sammy—"She's GROOVY, man. That's all!"
As I write this, Sammy is on a secret visit to Micky in Hollywood. I 'phoned him yesterday to ask him if rumors about their impending marriage were true.
"Marriage? You're joking. This is news to me, and to Sammy. No, we're not getting married, but it will be nice to see her again instead of talking on the 'phone."
A nice couple—Sammy and Micky.