If you are lucky enough to be invited for a visit by any of the Beatles—either at home or at the recording studio—you are expected to follow one polite rule: Don't talk about your meeting with them. If you break this rule and talk to others about their private lives, the Beatles simply won't ask you over again.
That is why Monkee Mike Nesmith didn't talk about his two meetings with the Beatles. First, he was invited to one of their very unusual and very private recording sessions. And, then, because he and John became friendly, Mike and Phyllis were invited to spend a weekend at the Lennon's house in Weybridge.
Until now, what went on during those visits between the pop world's greatest super-stars has been a very special secret.
But FLIP was the only magazine in the world at that historic and exciting Beatles recording session which Mike and Phyllis attended, and so we are able to bring you this exclusive story of what actually happened…
At about 10:30 p.m. on a cold and miserable March evening (it was a Friday), Mike and Phyllis were ushered into the vast EMI Abbey Road studios where The Beatles were to record with a 41-piece orchestra.
The scene they came upon was strikingly fantastic. The entire orchestra was decked out in formal evening dress, wearing an assortment of false faces—from huge ears to enormous spectacles to protruding teeth. And George Martin, the Beatles' producer and conductor, was leading the orchestra while balancing an enormous four-foot long false nose.
John Lennon was dressed in his favorite, well-worn green suit; Paul McCartney was wearing a chef's hat and apron (for no apparent reason); George was dressed in white Indian clothes, and Ringo was wearing regular trousers and a jacket. Mick Jagger was wandering around the studio in the company of Marianne Faithfull and Donovan.

Phyllis looked bewildered and kept asking Mike, "What's it all about?" Mike was fascinated by all the surprising happenings and got into a lively discussion with John and Mick about filming techniques. He was told that the Beatles were making a film of themselves making this LP and that most of the fancy dress was because of that.
Mike started looking closer at the things around him—and, like Alice in Wonderland, he found them "curiouser and curiouser." There were water taps fastened to the cellos and double bass, and someone suddenly introduced "Crazy Foam" onto the scene. In a couple of minutes, everyone was splashing the white foam around and people were being dragged through the messy madness.
But there was a record to be cut—and the splashing stopped for a while. The track was "A Day in The Life Of," written, of course, by Paul and John. The introductory bars of the song were played through—in all, it involved maybe 25 seconds of music—and after five or six run-throughs, the incredible session was over!
Meanwhile, more Beatleantics were being filmed by anyone who could pick up a movie camera lying around the studio and shoot scenes. Mick was involved and so was Ringo, the photography buff, who was taking specially angled shots. The musicians took off their jackets and color slides showing weaving colored patterns were projected on their white shirt fronts. Kind of human movie screens!
The cost of the studio and the equipment for the filming on this occasion was estimated to have cost about $10,000—which Paul paid for.
The finale came when the entire assemble—including Paul and Mike—mounted a rostrum and was asked to sing the notes "E". and "A" for a certain music effect on the record. Manfred Mann's bass player Klaus Voorman (who also designed the Beatles' award-winning "Revolver" album cover) lead the spectacular chorus. And the most expensive and exclusive musical note ever recorded with contributions from Mike, Mike, Marianne, Donovan as well as the Beatles—was captured forever!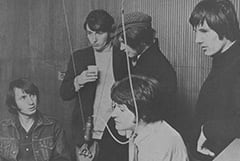 Mike was then asked a series of questions, which he answered in his dry manner. John was asked the same questions and replied in kind. "Yes," he said, "it is all a big scene and I'm full of LSD, cocaine, heroin, and whisky—Goodnight!" Proving, as ever, that John is always most interesting when he is not especially nice.
The next time we looked at the watch it was 2 o'clock in the early morning, and the "Crazy Foam" was all used up. So, the party moved on to the Bag O'Nails Club, which was too crowded, and then on to the Scotch of St. James. Somewhere along the way, Mike and Phyllis detached themselves.
It had been an unbelievable evening for them and they retired to think about it. They were looking forward to the weekend because they had been invited to the Lennon's happy Weybridge home. And John had invited Mike. to try some musical experiments on his precious Melotron.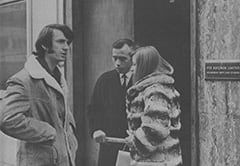 After the recording session and the weekend, reporters kept bugging Mike and Phyllis for details about their experiences with the Beatles and with the Lennons. But Mike, respecting their privacy (as well as his own), said nothing more than, "I liked the Beatles… you know it was groovy… we listened to a lot of good sounds, you know."
But now you do know—just a little—because you were there at the Beatles recording session with Monkee Mike and his lovely wife!
Wherever they are, in London or Los Angeles, FLIP is with the Monkees! Our young staff of accurate action reporters covers all their exciting activities as they happen so that you can be there—with Davy, Micky, Peter and Mike—as quickly as we can take their pictures and print their words! Many more on-the-spot scoops will be in next month's issue of FLIP, on sale July 11th!