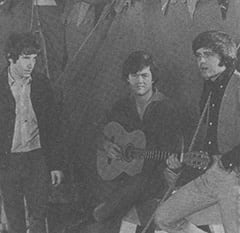 More Super Scam About The Monkees' Music!
By Tommy Boyce & Bobby Hart (Two of The Monkees' Favorite Songwriters and Best Friends)
Hello FLIPers!
We've had a great time this month, working with the Monkees in the studio, recording songs for their next album and some that we're holding for future albums (so don't ever panic about the latest Monkee album being the last—we've got so many songs recorded ahead that it'll take a couple of years to release them all!).
One of the new numbers we wrote especially for Micky. When Davy heard it, he flipped (how's that for a plug?) and Micky, who's always pretty amiable, said, "Go ahead and try it." So he did, but it just didn't have the magic, you know? Davy didn't like the sound of it at all and said, "Thanks, Mick, but this one's yours."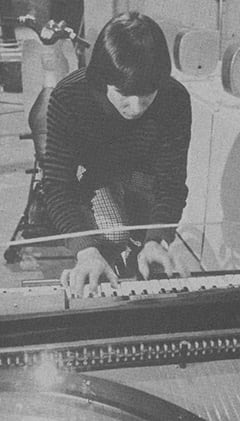 So Micky took over and just knocked everyone out. There's nothing groovier for us than writing a song for someone in particular and then hearing them do the fantastic job we thought they would. The next test is whether or not you like it. If the album's out when you read this, you'll be able to tell which one it is—the groovy one by Micky (we say it modestly!).
Micky has certainly turned into a very topnotch singer, one of our favorites. He was good to begin with, as he'd been singing with his own group for a while. But lately, he's just blossomed. He says that the songs are getting better, bless his heart.
All the boys have improved in the studio a great deal over the months (is it turning into years already?). Our next project is to get Peter to sing more often, right? He's really a "weird" Monkee at recording sessions, always laying down on things—the floor, the piano, a couple of amplifiers.
When the tension mounts, anyone of them is likely to say something funny to break the mood and relax everyone again.
The only problem we ever have with any of them is Micky and his eating habits. Ever try to get someone to sing when he's always eating? Don't! It's not that he just happens to have something in his mouth when it's time for him to sing. It's that he's always eating something.
In our HOW WE WRITE MONKEE SONGS DEPARTMENT: we thought we'd tell you about "Valari" since it's one of the most requested songs from that album, on the West Coast, anyway.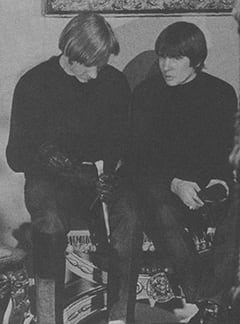 We call it our Car Song, since we wrote it while driving around in the car. One day, we just felt like taking a ride. Bobby drove and Tommy sat in the back seat with his guitar, as usual, prepared for inspiration.
We wanted to write a song for Davy to sing about a girl. While Bobby drove us all through the hills, we thought of thousands of girl's names, until he came up with Valari. Soon we had the first verse and the chorus ready to sing for the boys.
Most of the time, they like the songs we have ready for them, and this time was no exception. We finished up the song after they approved it and gave it to Davy to sing.
Next month, some behind the scenes notes about their latest album.