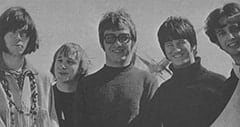 Last month I told you how Peter and I met, how we played together in an unnamed trio and how Pete took off for Venezuela and (after a time) I for California.
I went to San Francisco and it wasn't until the following spring (1966) that I ran into Peter again. He was working at the Golden Bear in Huntington Beach, where he did everything—he washed dishes, he backed up people and if they needed a second act, they'd put his name on the bill. He's play his banjo; and he lived just around the corner.
The way I ran into him again was that Ron Long and I had a duo called the Buffalo Fish, which was the "son of" Ron's old group—Shaggy Gorillas Minus One Buffalo Fish. We would sing half rhythm and blues and just horse around a lot. They billed us as "funky folk-rock and comedy." So we were booked into the Bear and we were really terrible for the whole gig except for two nights. Those two nights Peter got up and played piano with us.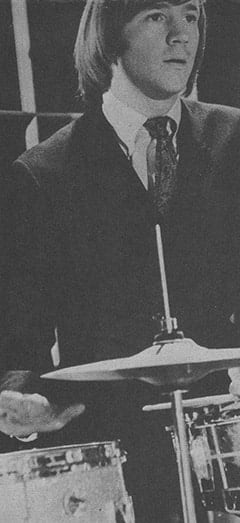 We had breakfast together one morning and I said, Peter, what are you going to do out there? And he said, "I don't know, man, I just want to do something. I'd really like to do something, anything, but something." I told him, "If I ever run into anything, I'll call you."
It was just about this time that Jerry Yester of the MFQ told me about the Monkee auditions. He told me that they needed four guys who were reasonable musicians and comedians for a TV series that they were going to model after the Beatles. I thought it was a pretty good idea because I'd love to see the Beatles on TV every week.
So I went down for the interview and they interviewed me and looked me over and I played for them. I didn't think I had a chance when I left. I realized that I had too much of a musician's temperament. I guess they could tell I was just a little bit too involved with my music to be a good comedian. Plus, I had bad teeth and ugly hair.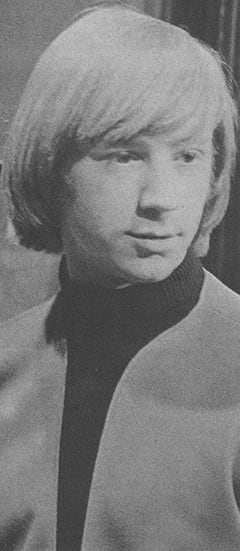 The first thing I said to the producer, Bob Rafelson, was, "If you don't like me, I know a guy who looks enough like me to be my brother, who's a better actor and has straight teeth!" I told Peter about it because I knew he was a better comedian.
After he went down for the first interview, I asked how how he felt he did and he said, "Well, it looks good. I'll see how things go." And they kept calling him back. He liked Michael Nesmith. That was the first thing that happened.
That was spring a year ago and the Springfield hadn't happened yet. Right after this I went away and lost track of Peter. Then I started working with the Buffalo Springfield.
I hadn't seen Peter for several months. I saw the first Monkee show on TV and I liked it. Peter plays the dumby, though he's certainly not. He's the Tommy Smother's character. Now I've decided I like the show.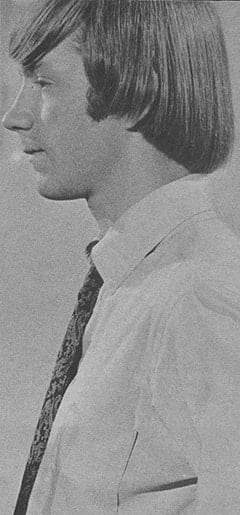 I didn't see Peter again until November 1966 and then it was a real shock. We (the Buffalo Springfield) were doing a show at the Santa Monica Civic Auditorium for KBLA and (without our knowing) Peter decided he was going to introduce us. We didn't even know he was there. We were ready to go on and suddenly Peter walked on stage and there was complete bedlam! It was incredible!
Just a few months ago I got a groovy deal on a house in Woodland Hills. It's surrounded by lush trees and a barn with horses and it has four bedrooms and everything! I couldn't move in for about a month, so Peter said, "Hey, stay with me until you move in."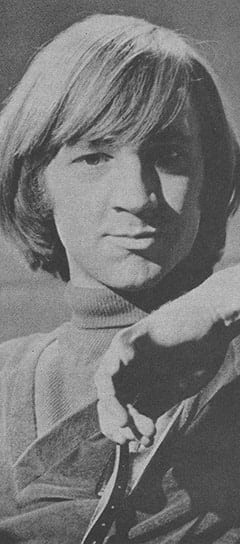 It's really groovy at Peter's house. People just come over and we talk or sit around and watch color TV. We don't have any favorite programs, we just mainly like the color TV. Sometimes we mess it up so there's dots and flashes, it's like our own light show.
I've learned some things about Peter that I didn't know before, like he likes to live in a cold house. "72 degrees is plenty warm enough," he says. He doesn't like the heat turned up. Also, he loves Chinese food, but he doesn't cook if he can help it. He much prefers to be "cooked for".
There's usually a parade of fans every afternoon up at the house. They come up to the door and whisper "Is Peter here?" and then they run away. If he's home he'll go out and sign some autographs, but he's not home that often. He's usually working.
We often sit around and play guitars. His favorite song right now is "Strawberry Fields Forever." The groups we'll listen to are the Spoonful, the Beatles, of course; the Mamas and Papas; and Peter digs the Springfield.
When we're not playing music or listening to music, we're usually picking things apart—groups, ideas we hear from people, pieces of music, each other's brain.
The quality I respect, more than anything else in Peter, is his honesty. More than any person I know, Peter gives of himself. If you have a problem you can always depend on him for some kind of answer or some kind of suggestion, no matter what it is. He doesn't worry about offending you, because he just wants to be honest. To me, that's being a true friend.