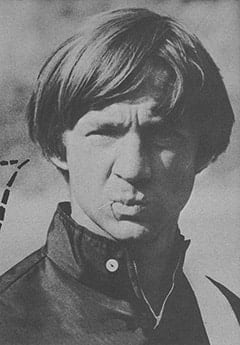 He's sick, sick, sick of it all! You'll know exactly why he reacts so strongly!
… "When friends of my parents still pinch my cheeks and say how big I got. I'm 5'11" tall and I've been that height for awhile!"
… "When I have to get out of bed in the morning. Of course, I do because I have to. But there's nothing I like better than being able to sleep late!"
… "When a lot of people come on to The Monkee set to watch us rehearse. It makes me very nervous!"
… "When I have to wash dishes. I had a job as a dish washer just before I got The Monkee part. I was making fifty dollars a week and could barely get by on it. It would make me very happy if I never saw another dish as long as I lived!"
… "When I fall in love. Sometimes I just fall in love with love. But you wouldn't believe how bad an effect the whole thing has on me!"
… "When I go for a ride with Micky on his motor cycle. You can take my word for it—it's quite a ride!"
… "When I have to ride in an airplane. I'd rather take a train or a boat any day of the week. I know that it's silly of me, but I'm scared sick of flying!"
… "When my younger brothers con me into playing baseball with them. I always swear that I'll never do it again—but I do. I'm really not the athletic type. The only sport I really go for is swimming—that I enjoy!"
… "When other people pick up my guitar and start to play it. I take music very seriously, you know! When an instrument belongs to you it's a very personal type of relationship. You get used to it, and believe it or not, it gets used to you. My guitar doesn't like to have anybody but me playing it!"
… "When I think of my college career. I attended Carlton College in Minnesota for three years. Somehow, I just couldn't make it. It's been the biggest disappointment of my life. But, I'm not giving up that easily. Someday I hope to go back and give it that 'old college try'—
… "When I'm out with a chick who's playing dumb! Some gals think it's real smart to act stupid. I go for gals who are bright, witty and full of personality! Some girls would be so much smarter if they'd just be themselves!'"
… "When hundreds of my fans converge on me at the same time. Don't get me wrong—I love my fans. I wish I could meet and get to know all of them—but not all at once!"
Peter's most personal facts!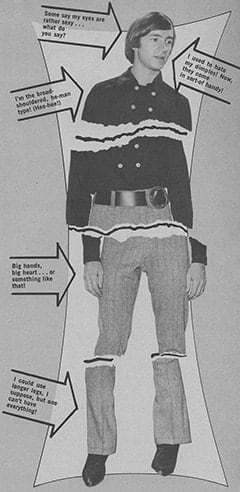 Originally named: Peter Halston Thorkelson
Birthday: February 14, 1944 (Actually February 13, 1942)
Birthplace: Washington, D.C.
Present residence: House in Hollywood, California
Father's occupation: An Associate Professor of Economics at the University of Conn.
Former occupation: Student, held other short-term jobs such as dish washer and musician
Sisters: One younger sister: Ann Elizabeth, 10
Brothers: Two younger brothers: Nick, 21, Christopher, 14
Pets: None
Schools Attended: Carlton College in Minnesota
Army status: None
Marital status: Single
Height: 5'11" tall
Weight: 152 lbs.
Characterizing marks or features: Freckles and dimples
Hair: Reddish brown
Eyes: Big and brown
Neck size: 15"
Sweater size: 39 or Large
Sleeve size: 33"
Glove size: 9 ½
Waist size: 29"
Slack size: 29/31 (Meaning 31" in length & 29" waist.)
Sock size: 11
Shoe size: 9 ½
Some say my eyes are rather sexy… what do you say?
I used to hate my dimples! Now, they come in sort-of handy!
I'm the broad-shouldered, he-man type! (Hee-hee!)
Big hands, big heart… or something like that!
I could use longer legs, I suppose, but one can't have everything!