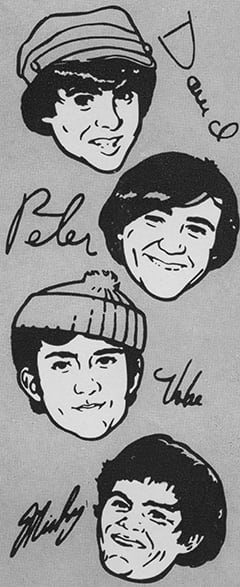 David Jones
Five-foot, three-inch David Jones, once an apprentice jockey at England's Newmarket Racetrack, is the smallest "Monkee", but his talent is king-size. He starred in the role of "The Artful Dodger" in the Broadway musical "Oliver", playing a starring role in the Dickens-based musical "Pickwick" and now is a star of the new NBC Television Network color series "The Monkees" and a Colgems recording artist. All this Davy has accomplished at the age of twenty.
Born in Manchester, in the English midlands, the son of a railway engineer, Davy dabbled in amateur theater at school. At the age of fifteen, he auditioned for a part in a BBC radio production about juvenile delinquents. He won the role and worked regularly on the BBC until repeated exposure to horse races on television convinced the then four-foot seven-inch Davy that he would make an admirable jockey. The reality of early-English mornings, raw and rainy, in which he exercised the horses, gave the boy second thoughts about a career as a jockey. He had made contact, however, with various London theatrical executives who were horse owners. One of these men arranged for Davy to audition for a major agency, who nabbed him for the role in "Oliver". After a cram course in the Cockney accent, Davy joined the cast and went with it to Broadway for a two-year run. "Pickwick" followed and he made numerous guest appearances on rock and roll variety shows and in dramatic TV shows. "The Monkees" is his next giant step.
Peter Tork
Peter Tork, who recites English poetry at the drop of a sonnet, is a guitar player who tried his very best to become an English professor. On two traumatic occasions, he enrolled in college with this highly respectable goal in mind, and twice the dean informed him that his pursuit of a pedagogue's life was not quite successful. So the Connecticut boy took his guitar and set out to seek his fortune as an itinerant minstrel.
Born in Washington, D.C., Peter Tork soon moved with his family to Connecticut, where his father is an associate professor of economics at the University of Connecticut. From childhood, the freckled, reddish-haired Peter had been singing and playing ukulele, guitar, and five-string banjo. Folk singers were his idols, but teaching was in the family tradition.
When Peter's first try at college (Carleton College in Minnesota) failed, he returned to New England and worked for 14 months in a thread mill. His second try was equally ill-fated, and he decided to select another line of work in self-defense.
In New York's Greenwich Village, Peter became a folksinger in a "pass-the-hat house", later graduating to a steady job as one of the accompanists for the Phoenix Singers, with whom he toured for six months. California was his next goal, and within two months of his arrival he was selected for a starring role in "The Monkees." In addition to his skill with stringed instruments, Peter plays piano, bass, recorder, and French horn.
Mike Nesmith
Mike Nesmith, star of NBC Television Network's "The Monkees" (Mondays, in color), is a guitar-playing, songwriting Texan with a college degree, a solid interest in Renaissance music and the ability to shift gears to rock and roll with consummate ease. His long locks are of Beatle persuasion, his accent has overtones of the Alamo, and his guitar playing is distinctly professional.
Born in Dallas, Texas, Mike traveled next to San Antonio where he attended college and expanded his knowledge of folk-singing and guitar-playing. When he became tired of the same old repertoire, he wrote some new songs and upon graduation decided to seek his fortune as a folk-singer in Hollywood. There he met a bass player named John Lundgren (John London) and the two of them set out on a road tour which had them booked for five shows a day. Upon their return, seasoned but far from wealthy, they added a third member. Mike and John became known as Mike and John and Bill and entered the rock and roll field. All the new group's music was from the nimble pen of Mike Nesmith and fortune was about to descend when the draft board beat it out. Mike went back to being a single.
Mike's next job was at Ledbetter's, a well-known Los Angeles folk club; where he met with a tidy success. It was at this point he spotted an ad in Daily Variety for a "folk-oriented rock and roll singer". He answered the ad, auditioned for "The Monkees", and suddenly has found himself with a steady job.
Micky Dolenz
Long-legged teenager Micky Dolenz is no stranger to the television screen, having starred for several years as the orphan boy around whom the series "Circus Boy", was written. As a member of "The Monkees" (Mondays, NBC Television Network, color), Micky is a singing drummer with a penchant for making terrible faces, doing dreadful imitations and generally bouncing around with noisy verve.
The son of actor George Dolenz (best-remembered for a series of productions in which he starred as "The Count Of Monte Cristo"), Micky came naturally to the acting profession. He was 10 when he began his three-year stint as the star of "Circus Boy", and once into his teens began to expand his professional abilities by learning to play the guitar and sing. Playing drums is a new tack for the versatile young performer, one acquired specifically for his role on "The Monkees". In addition, he has played dramatic roles on such TV shows as "Mr. Novak", "Peyton Place" and "Playhouse 90".
Wise in the ways of show business, Micky enrolled, following high school graduation, in Los Angeles Trade and Technical College for the study of architectural drafting. Although nicely launched on a career as a performer, his college studies were undertaken, he says, with the knowledge that "if you're smart, you don't put all your eggs in one basket."