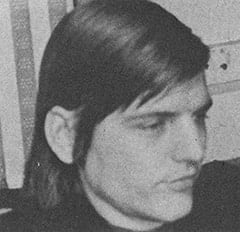 Mike has wanted to go to England ever since the Beatles hit the scene, because England to Mike is the only place in the world where things can happen in the music industry the way they happen here.
Where else could you find a phenomenon like the Beatles but in England and where could you find a happening like the Monkees? Only in the United States. Because English is the most universally spoken language in the world, where else could you possibly go from nothing to one of the two biggest phenomenons musically in the world. It's not possible in France, because not enough people speak French. Mike wanted to go to a country where it would also have been possible for the Monkees or a Mike Nesmith to happen and happen in the large way that he did—he chose England.
It's for real
As the shooting ground to a halt at Screen Gems a few weeks ago, the Monkees were told that just to keep them busy during their work break, they would be given an all-expense-paid vacation to any place in the world they chose. It was at this time that Mike decided to fulfill his dream of several years and he streaked for England as fast as he could fly. The wings he chose were attached to Flight 100 TWA and he almost didn't make it, because the limousine that was to take them to the airport was late. Mike found that he had just ten minutes to board the plane and if it hadn't been for the TWA representative and a baggage cart, he might have missed his dream trip to England. During the flight he talked with the other passengers about everything from Monkees (mostly) to Monkees (mainly).
Surprise!!
Everything was pretty calm until Mike and his wife Phyllis landed in London and then he got the shock of his life. The howling, cheering mob that greeted his unannounced plane made it very clear to Mike that he and the other Monkees were definitely number one in the hearts of their English fans. He ran for his life and finally escaped from the airport—but just barely! He could tell that THIS was going to be a visit to remember. Later, he found that David had flown in the same day he left and had received the same wonderfully WARM welcome. During his entire stay there, Mike and the other Monkees got front page headlines in all the London Newspapers.
The great itch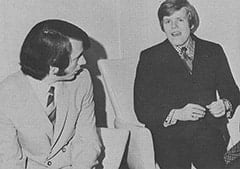 From the airport Mike and Phyllis were driven to their hotel, the Grosvenor House, where they were immediately and constantly surrounded by press and crowds of fans trying to get a word in edge wise and a peak at their favorite Monkee. It vaguely resembled a zoo for the next several days and I'm sure that Mike felt like he was the main attraction in some weird cage.
The fans were rather nice, but that first night's sleep was almost murder for Mike and Phyllis. You see, there was a horse hair blanket beneath the linen sheets and the first time Mike got in bed, he felt a million little things sticking in his back and got a good case of horse blanket itch! The only cure for that kind of itch is to remove the offending blanket from under the sheets and hide it in the furthest corner of the nearest closet and that's exactly what Mike did with much haste. I know it sounds strange, finding a blanket under your sheet, but the reason given for it is that the mattresses in England are made of silks and other slippery materials and any sheets that you'd put directly on top of such a mattress would slide all over the place. So, rather than find yourself shortsheeted by you in the middle of a night of much tossing and turning, the hotels put rough blankets under the sheets. I guess it would compare to our mattress pads. The other excuse is that the weather often gets freezing and the blanket will keep you warm. As I was saying, Mike hid the offending horse hair. I guess he'd rather shortsheet himself and the hotel must have gotten the hint, because they never replaced the blanket.
Sold out
After they settled in the hotel, Mike and Phyllis decided to see what London was like. They were driven around London by the man who drives the Beatles and all the other big groups around the "Big Smoke" and they couldn't go anywhere without being recognized. Even the older people would wave and smile when they saw them.
One of the very few people who didn't recognize him was a man selling newspapers. Mike had stopped to get a local paper only to find that they were sold out completely. When Mike asked the man why, he said it was because of "these Monkee fellows what's in town." Mike didn't let on to the fact that he was one of "these Monkee fellows" and resigned himself to peaking at papers over other people's shoulders.
The impossible happens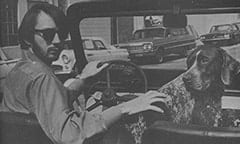 That evening, Mike tried the ultimate impossible. He tried to phone John Lennon, but was unable to get in touch with him. Naturally he couldn't because everyone knows it's totally impossible to get in touch with John by phone. Undaunted, Mike decided to send a telegram inviting him to dinner. It read, "John, we would be pleased to have you and Cynthia over for dinner—God is love—Mike."
You're probably wondering why Mike tried so hard to get in touch with John. It's really very simple. He wanted to extend a gesture of friendship to John and since he and Phyllis didn't know London or where to go there, they thought that inviting John and his wife would be the best thing to do.
Mike received no immediate answer from John so he decided that John would probably get in touch with him later. That night he went to dinner with Spencer Davis and then they went out for a round of London's night spots. They ended up at The Bag O' Nails where all the big English groups go to relax. It's the really "in" place now.
When they got there, Mike received his first big shock of the evening. He found many of the biggest names in English music sitting at the tables and just enjoying themselves. Keith Richards and Brian Jones were there along with Eric Burdon, Cilla Black, Donovan and many others.
His second shock came while Mike was sitting there enjoying himself. He felt someone tapping his shoulder and turned around to find Paul McCartney looking down at him. Paul said, "How do you do, I'm Paul McCartney." Well how would you feel if Paul did that to you? Mike managed to get out a "Yes I know" and then found himself completely speechless. After all, just what can you say to something like that? I think that for the first time in history Mike was at a total loss for words. Anyway, Paul had heard that the Monkees were in town and stopped by to introduce himself and say hello.
Before Mike could fully recover from the shock, the biggest surprise of all just picked him right up and left him thoroughly flabbergasted! He was dancing with Phyllis when he felt another tap on his shoulder. He turned around and stared straight into the face of none other than John Lennon, who immediately apologized for not being able to have dinner with them and to make up for it, John invited Mike and Phyllis to a Beatles recording session the next night. Mike accepted and then spent the rest of the evening talking to Paul and Spencer Davis.
The missing Mini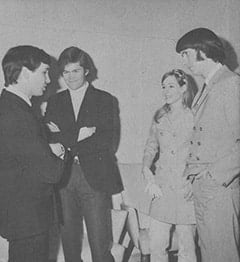 The next day, Mike could hardly contain himself. He wished that the hours to the recording session were fewer. In order to help pass the time, Mike took Phyllis shopping in Carnaby Street. They stopped at Biba's and Phyllis found the completely mirrored shop frantic with girls. The whole place was mirrors and racks of clothes and fighting females. Phyllis didn't know what her dress size in England was and just picked out a dress to try. As she was putting it on, some girls picked up Phyllis' clothes off the floor and tried them on. The clothes fit and the girls departed. It was a pretty frantic scene for awhile, but Phyllis eventually got her dress back and also found what size she wore. She finally bought a pair of boots and then she and Mike were given a tour of the city by their chauffeur. In general, they just saw the sights and took it easy. Mike also bought a Radford Mini Cooper. It goes 130 miles per hour and is absolutely the tiniest car in the entire world. It has an interior you wouldn't believe—it looks just like the inside of a Rolls Royce. After their expedition, it was off to the Beatles' session.
White ties and aprons!
Mike arrived at the studio to find Paul was wearing an apron and directing a forty piece orchestra who were sporting tuxedos and white ties! There were microphones among the musicians and the other guests were walking around them and carrying on casual conversations. Naturally every sound was being recorded and the session was some kind of freak out.
Mike sat down in an available space and quietly took in everything that was happening. While he was listening, George came over and sat down next to him. After introductions, Mike and George found that they had something very much in common, they share a great interest in "Cowboy" clothes. They hit it off very well and Mike thinks of George as a fantastically friendly guy, the most easy going and open of the four.
The next Beatle to amble over was Ringo and Mike found Ringo to be friendly and a very sharp businessman. They discussed many things, but mainly they talked about the phenomenon that affects their daily lives. They told each other what it felt like to be a Beatle or a Monkee and try to live a normal life. Mike found out that what he had long suspected about Ringo was true. He had felt for a long time that Ringo was the success drive behind the Beatles. He found in talking with Ringo that night that his suspicions were dead right and that Ringo is the driving force and businessman of the group. The other three are talented, but Ringo drives them—he makes them go.
Meanwhile, Phyllis had met John's wife, Cynthia, and the two of them hit it off beautifully—they have become great friends. To cap the evening completely, John came over and asked Mike if there were a lot of fans hanging around and when Mike answered yes, John said, "If you'd like a couple of days to rest, why don't you come out to my house?" The invitation was extended and Mike happily accepted.
Musical chatter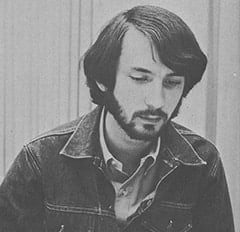 The next day before leaving for John's, Mike spent several hours talking to a fellow American performer, Gene Pitney. Gene is a big name in England and does a lot of writing and arranging for English groups. He and Mike passed the time talking about new ideas and directions in music. Mike is very serious about his music and never passes up an opportunity to exchange thoughts on the subject with other musicians. You can as a result of his research in England expect some new sounds from the Monkees in the near future.
Electric handles and rest
After his talk with Gene, Mike returned to the hotel where he and Phyllis were to be picked up. John sent his Rolls Royce for them and when the car pulled up outside the hotel, the fans recognized it and really had a terrible time trying to decide whether to charge the car or charge Mike. Somehow Mike made his way through the shoving crowd to the car. The minute he and Phyllis were in the car and the doors were closed, the door handles on the outside became electrically charged and the car sped away. Mike and Phyllis were off to John's for a couple of days of much needed rest.
At home Lennon style
Mike and John hit it off really well and discovered that they had quite a bit in common and though Mike only stayed a short time, he and John became fast friends. John told him that the Beatles consider the Monkees to be comedic geniuses, masters of comedy. They all feel that the show is the freshest approach to come along on the telly yet.
Most of their time was spent in John's workroom where they played his instruments and exchanged musical secrets. John played the tracks from the latest Beatle album for Mike and went over each song—its composition and meaning—in detail. Mike then gave John his opinion and some ideas on a song that John was composing.
Ringo popped by one night and the three of them sat around and played a new instrument called the Melotron, which gives out with some fantastic new sounds. (The trumpets you hear in "Penny Lane" are the Melotron). Each one of them made up melodies and they all had a great time trying to outdo each other. They stayed at it for hours and finally had to admit that it was a draw and that no one had really beaten anyone.
Crossing back
Mike and Phyllis stayed for two days enjoying the hospitality of John and Cynthia, and then because of a tight schedule, they had to leave for home. Though their visit to England was short, they loved every minute of it and are looking forward to going back there as soon as possible. You see, England made a great impression on Mike—and Mike made a great impression on England. To my way of thinking, it's hard to come up with a better trade than the swapping of thoughts and ideas between two great musical minds like John Lennon of England and Mike Nesmith of the United States.