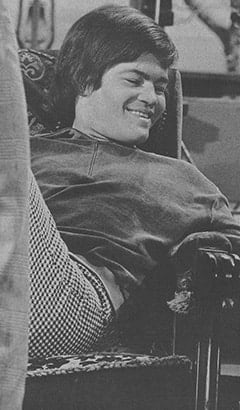 Paul: "Micky knows what it's all about!"
Micky Monkee meets Paul McCartney!
That was the exciting pop surprise which happened at Paul's St. John Wood's home when Micky visited London.
Micky had once said that "meeting a Beatle would be rather like seeing God!" But he had an entirely different impression after coming away from his chat with Paul (which he relayed to me during a quick flip in and out of a London TV studio).
"Paul turned out to be a tremendously real and likeable person," he said. "He said that he watched and enjoyed our TV show and that he liked our records. That I think is a tremendous tribute. I expected to be overawed by him—but he's such a relaxed friendly person that I felt completely at ease.
"The Beatles have always been revered by us as a group and there isn't a person on the pop scene who has not been influenced by them but that does not mean we have tried to imitate them on film. Our humor is based upon the type of comedy the Marx Brothers had in their early films.
"Paul is a beautiful guy—his moustache knocked me out—I may grow one like that some day and he wore the most fantastic tie. He asked me if I wanted to drink and I had an orange juice.
"Originally the whole thing was set up as a publicity thing and although I didn't dig that idea much I was really pleased that it worked out so well and that we seemed to get on well together.
"Most of the evening we sat around talking about just everything and he played me "Penny Lane" and some of the tracks off the new LP like "When I Was '64" which is fantastic old jazz type number."
Paul, ever the Beatles diplomat, had obviously completely won over Mickey [sic] and any skeptical opinions he might have had were completely eliminated.
"Micky knows what its [sic] all about," says Paul, "I fully expect the Monkees to go from strength to strength. This is no here today and gone tomorrow group. The Monkees are going to surprise everyone."
The little resentment which still exists in British pop circles over the Monkees taking over from English groups seems to be dying and it is quite certain that the cordial meeting Paul and Micky have helped put millions of minds at rest.
Paul once said to me: "When you are young and you are new and you are a big attraction it is inevitable that comparisons will be made between you and established artists—no matter how original you are but eventually, if you have talent, the individuals come through."
Paul was then talking about the Beatles but he might well have been referring to the Monkees.
Paul knows that as the Monkees today are being compared to the Beatles, one day another group will be compared to the Monkees.
And, in their short surprise meeting, Paul gave Micky an idea of what that day will be like.