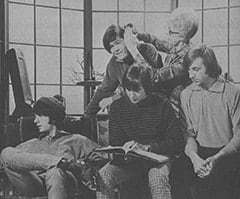 Tracy Thomas, Flip's groovy girl in Hollywood takes you with her as she makes the spec scene with Davy, Micky, Peter, & Mike!
Exclusive FLIP Photos By Robert W. Young
You think you have problems? How would you like to have to try and keep up with four of the craziest, zaniest and nicest boys in the world? You would? I can't blame you! So here we go—remember, you'll get very little sleep, not much to eat, and you'll spend a lot of time just standing around and watching. But then, think who you're watching! To begin with, I went on my first tour with the Monkees—talk about a hectic pace… those boys are busy every minute!
Friday night, after a full week of twelve hours a day on the set, the boys flew to Phoenix, Arizona, and performed there the next afternoon. Then they hopped into their neat and cozy little Lear jet and sped up to San Francisco where I found them blockaded by security guards in their hotel suites.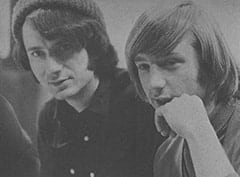 Most rock 'n' roll stars are nice to their fans, but I've never seen any group spend so much time with their followers! Micky and Davy especially are continually talking to the girls and boys who come to the hotels to see them and are always very cordial to those who manage to get through the tight security. They realize how hard those kids have worked!
Davy, of course, charms all the girls out of their minds! I haven't seen any faint yet, but a few were thinking about it. He talks to them about their interests and answers all their questions—well, he's just a groovey guy, that's all.
Peter and Mike usually stay in their suites with just a few friends and visitors. "It's easier to get to know people that way," explains Pete.
Micky provides plenty of food and grog for the gang and entertains everyone with his impersonations and gags. While there are a lot of people around, you just can't get The Mick to be serious. Oh, well, who would want to try?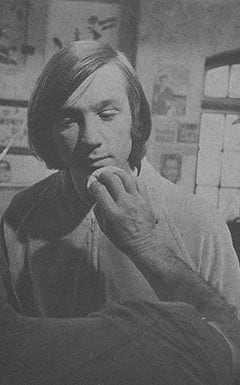 Way late in the evening, we all went to Basin Street West, a night club in the North Beach area of 'Frisco, where the Jefferson Airplane were performing. I won't tell you what time everyone finally staggered back to the hotel, but the sun was creeping up over the Golden Gate Bridge, if that gives you a clue! We chatted with the Airplane for hours and the boys played with them and sang and in general everyone had a groovey time (except the poor manager who had to wait until we left to close the club!)
I had hardly closed my eyes (or so it seemed) when I heard a loud banging on my door. It was Micky, bouncy as ever, though he'd only had a few hours' rest, crying, "Come on, we have to go check out the auditorium!" After several minutes of grumbling (and mumbling, "You may have to go, but I don't") I joined the Monkees in the limousine.
The boys like to visit the hall they're playing in a few hours before the show goes on, to make sure that everything's in place and to get the feel of the hall. Were we surprised to find that the Cow Palace officials were already letting the audience onto the grounds—the boys narrowly missed detection by ducking down quickly while the limo did a fast U-turn and sped back to the hotel. (Bet those kids wondered what I was doing in a car like that!)
We had hardly reached the hotel when Micky had an inspiration and gave me "Ah ha, do I have an idea" look, which meant that I would not get that nap I was counting on! So off we dashed to the radio station that sponsored the show. Imagine the disc jockey's surprise when the star of the show walked in only a half hour before show time.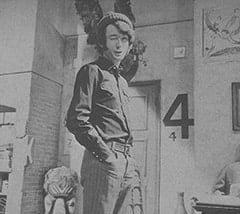 "Hey man, I don't have a ticket," Micky shouted. "They won't let me into the Cow Palace without a ticket!"
While the dj searched frantically for fifteen minutes, Micky took over his show, announcing records and doing the weather and all. Finally, they came up with a ticket and off we reared to the Cow Palace, arriving just in time for Micky to change.
As he slipped into his performing clothes (navy blue suede jacket and gray pin-striped pants), I watched the first half of the show; Jewel Akens, the Apollas and the Candy Store Prophets. I must say that my favs are the Prophets, cause their leader, Bobby Hart (who writes much of the Monkees' material along with Tommy Boyce) is a special friend of mine and a talented guy to boot.
During the intermission, I checked backstage again. The guys were all getting nervous. Peter stood anxiously chatting with his girl friend, Lea Elliot; while the others just talked with the other performers, except for Mike who sat quietly in a corner until just before they were announced, when he came over and asked me nervously, "Hey Trace, what's the crowd like? Do I look OK? Are there a lot of kids? Are my pants wrinkled yet?"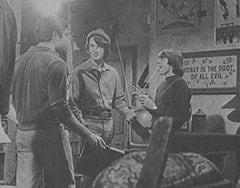 Then, reassured that the audience was fine and so were his pants, he and the other three ran on stage and put on a great show (like always!) The crowd went wild! It was the biggest audience they had ever played to—over 15,000.
The minute they were through, we all leaped into the waiting limousine and raced to the airport, where the boys caught their Lear jet and zoomed home.
On the way, the boys talked about the show all of them had been scared because the kids rushed the stage frequently. Especially Davy—"When I started 'I Wanna Be Free' I could see thousands of them surging toward the stage and only a handful of police around. I love fans, but I really get scared when that many come at me at once. I thought I was done for!"
I staggered back home, limp with exhaustion and excitement. I glanced at the Monkees' shooting schedule. "What!" I thought. "Do they have to shoot tomorrow? Those poor boys can hardly hold their heads up! Davy will never make it. Pete will phone in sick. Mike will be late. Micky will think of something."
Nevertheless, I had to be on the set at eight the next morning to check things out. Did Davy come? Did Pete cop out? Did Mike sleep late? What excuse did Micky think of?
Tune in next month when I take you on the Monkees' set and we see Micky spray Mike in the face with a gigantic squirt gun and other fun and games!
Next month: Tracy takes you backstage with the Monkees—bringing you closer to them than you ever dreamed of!