The scene: London, England
The scoop: Flip's British reporter Jeremy Pascall shows Micky the town!
"This is outasight! I'm gonna do the whole tourist bit—Buckingham Palace, Carnaby Street, the groovy clubs and, man, am I looking forward to seeing mini-skirts!"
As we drove through London in a luxurious chauffeur-driven Rolls Royce, Micky was busy with his camera snapping the usual sights as well as London flower sellers at their gay stalls and, whenever possible, lovely London lasses!
I pointed out the London landmarks to Micky through the smoked glass of our car that allowed us to look out while no one could see in. Micky was very puzzled when he waved to a couple of people and they appeared to ignore him. It wasn't until I explained to him about the special windows that he thought the English were not very rude!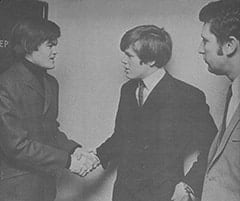 He just loved the double-decked buses, the bowler hats and umbrellas and wanted me to show him as much of my city as possible in the short time available. I figured the best plan was to take our Monkee to the top of the Post Office Tower, thirty-five floors above the streets of London. Way up there in the clouds. We looked out over the sprawling buildings and landmarks stretching for miles. A thin mist covered the outskirts of the city. "Is that real fog?" Micky asked me, "Is that real London fog? Gee that's a gas, London wouldn't be London without the fog!"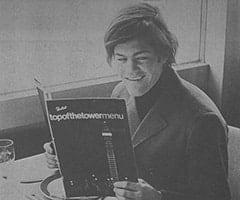 I pointed out all the famous monuments like Big Ben, Nelson's column and Regents Park as Micky clicked happily away with his camera, "I want to see a London policeman, and Changing the Guards and the River Thames. I am so touristy. After all that I want to see the clubs like the Cromwellian and the Bag O'Nails, I'd like to go where the English pop stars go. I'd love to meet Spencer Davis—that guy is outasight."
So we went along to Lord John Carnaby Street's famous male boutique where all the stars shop, Micky turned the place upside down and ended up buying nine suits. One he especially liked was in brown herringbone with a double-breasted jacket. "Man this is GROOVY. But the pants are too short." No trouble at all, within ten minutes Lord John's tailor, used to celebrities in a rush, had the whole thing fixed. "Unbelievable!" was Micky's only comment.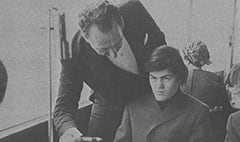 Back we jumped into the limousine for some more cruising around and Micky fired questions at me about the famous London Palladium, the Royal Family and how to play darts in an English pub. Then we headed back to the plushy Grosvenor Hotel where Micky was booked in and he changed into some more Carnaby gear for the evening's entertainment. It was down to the Marquee Club, home of so many world famous groups, to meet Spencer Davis. When we told him about meeting Spence Micky was knocked out. "You mean Spencer Davis wants to meet ME! WOW!"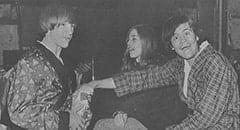 Micky whooped it up with Spence and the boys late into the night visiting club after club. When I left him to stagger wearily home he was still at it, shouting "This is it. Man, this is the grooviest bag!"
Next morning, just as the noon-day sun was breaking across the Houses of Parliament, Micky emerged! He was raring to go despite the rigours of the night before.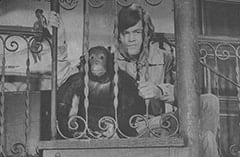 Today we were bound for the London Zoo. By now news of Micky's arrival had leaked out as had his Hotel address, which meant that the comparative peace we enjoyed earlier was shattered. Nonetheless Micky took it very well, ordering our chauffeur not to drive away before he had signed as many autograph books as possible. Unfortunately, I had lent him my pen to sign with and an enterprising young lady 'borrowed' it as a souvenir!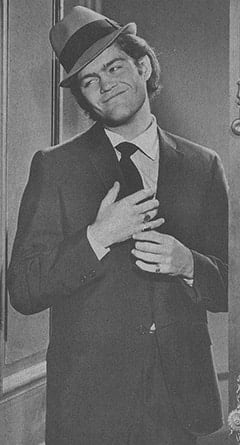 Eventually we drove off with girls clinging to different parts of the car. As we weaved in and out of the busy metropolitan traffic Micky was surprised how well we managed driving on the "wrong" side of the road, "Have you noticed," he asked me, "how many English license plates there are?" And as a bus overtook us he yelled, "Gee, look at the size of that—don't argue with those monsters, friend!"
At the Zoo, Micky clowned around with the monkeys (real ones!), made the gorilla look like an ape and collected an adoring crowd of school children who pointed, stared and then rushed. We exited, stage right!
Experiences of this kind didn't dampen Micky's enthusiasm, in fact he went around saying "Whoever said the English were cold and aloof? They're so friendly…" Friendliness occasionally ran to almost killing our newest rave with kindness but Micky didn't mind.
Come lunch time Micky wanted to eat only one thing—English roast beef and Yorkshire Pudding! "I gotta have that in England, don't I?" and he set to eating with ill-concealed delight. But he didn't try English beer because Micky really does not like the taste of alcohol so he stuck to orange juice (which, I'm afraid, is not British specialty but Micky was much too polite to complain).
"What are we going to do next, Micky?" I asked him. "I think the Tower of London, perhaps" he answered imitating my English accent.
"Yeah, groovy bud, a great bag, man. Outasite." I replied. I thought it sounded American but Mr. D. was distinctly unimpressed, "Forget it!"
But we never did make the Tower of London, instead it was onto more clubs and more wild scenes and once again I crawled home with a blown mind and aching feet. Trying to keep up with Micky is too much!!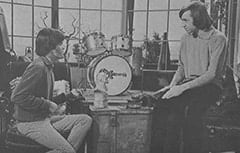 Micky Dolenz loves London and London is just mad about him. Come back soon, Micky, because there's a lot more I can show you!
Magazine: Flip
Author: Jeremy Pascall
Published:
Publisher: Kahn Communications Corporation
Pages: 3–7