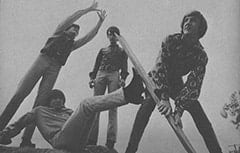 Name your own prize!
The seven letters which spell "M-O-N-K-E-E-S" are almost as much fun to play with as Davy, Micky, Peter and Mike themselves!
They can be turned into lots and lots of words. And all you've got to do is come up with five of them.
Write your five words on the coupon… and then fill out the most important part of the coupon: Naming the prize you'd like to win if your entry should be one of the lucky ten chosen from The Monkees' Mailbag!
There's never been a groovy contest like this before! Where the contestants can name their own prizes! It's a dazzling and dreamy contest!
So, what are you waiting for? You can only come out ahead… Monkees ahead!
SEND TO: MONKEES CONTEST, FLIP MAGAZZINE, 1010 THIRD AVENUE, NEW YORK, N.Y. 10021