(Who Know Them Better Than Anyone!)
Tommy Boyce and Bobby Hart could be called the fifth and sixth Monkees. They've been with the show, and with Micky, Davy, Mike and Peter, since the very beginning. As The Monkees' favorite songwriters and best friends, they've been one of the most important parts of the Monkees scene!
Both Tommy and Bobby are 23, ride motorcycles through the Hollywood canyons with courage and write hit songs with spectacular case! They wrote "Last Train To Clarksville" with no advance warning—and it sold a million copies during the first month! "I Want To Be Free," "I'm Not Your Steppin' Stone," and the Monkees theme are also their songs. Bobby also has his own group, The Candy Store Prophets, which goes along with The Monkees on tour.
To get some super-scoops on The Monkees, by the two guys who know them best, just flip the page…
20 questions (and action answers) about The Monkees!

Permalink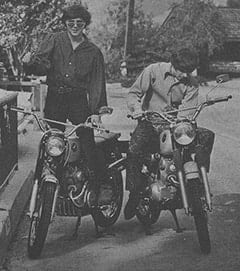 1. Where did you meet the Monkees?
We met at the El Dorado recording studios across from Capitol Records in Hollywood. The producers brought them over to meet us so we could teach them the songs for the pilot.
2. When did you meet the Monkees?
Approximately 1 ½ years ago—about a year before the show went on the air.
3. Did you like each other right away?
Right away. Very friendly thing. They were very pleased they were chosen to be in the show. We dug each other and it was a happy meeting. And it's been the same ever since.
4. Did you meet all four at one time?
Yes, all together.
5. How many songs had you written by the time you met the Monkees?
Together we'd written probably 100 songs because we had been partners for two years starting back in New York. But for the Monkees we had written only three for the pilot.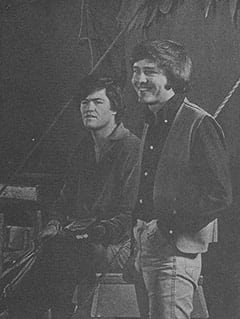 6. When did you see them first singing your songs?
That very night when we taught them the songs and put their voices on the pilot.
7. What was the first song you heard them sing?
(Tommy singing "Hey Hey we're the Monkees…") The Monkees theme.
8. Having met the Monkees, does it help to write songs for them?
Sure, because knowing them we know what they dig and the sort of things suited for their individual personalities.
9. Do the Monkees give you any ideas for songs?
(Bobby:) Can't remember any specific ideas. (Tommy:) Every now and then they might suggest a type of song. For instance, Mickey [sic] might say: "I'd like to sing a song like such-and-such" and start singing one of his favorites.
10. Do producers, directors, or anybody ever go over your song ideas?
The producers did for the pilot but after that they never told us what to write. In the beginning we read the script and wrote the first three songs to fit the pilot show. Then we gave the songs to the producer and he liked them. No changes were made.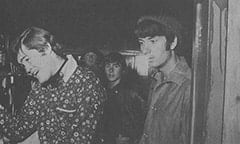 11. The Beatles wrote "Hard Day's Night" and "Help!" for definite purposes. Do you write for some definite purpose or idea?
Only for the pilot script. After that we wrote songs for the Monkees as recording artists primarily, not for script of the show. Sometimes they fit the show around one of our songs. That happens more often.
12. Do you see the Monkees often?
Quite a bit—two or three times a week. At a party with them the other night. (Bobby:) Of course I toured with them so was with them almost constantly. Micky lives a block away and will honk his horn when he drives by, or stop in to visit.
13. Do you actually help them record—go into the studio to produce the songs?
Yes. We produce with them in the studio.
14. Do you ever provide background singing for the Monkees?
(Bobby:) We'll work with them on parts and teach them but that's all. (Tommy:) Only for purposes of the pilot did we provide singing.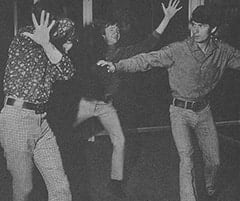 15. What is Monkees determination to be a group as well as actors?
They are a group. Just proved this on last tour which was a great success. They outdrew the Beatles' last tour here in some towns.
16. Have the Monkees changed?
(Bobby:) They've changed for the good. On the road their reaction to the kids enthusiasm has been good and they feel they have something to live up to, in my opinion. (Tommy:) Even though they are successful stars, they're still very grateful and I think they appreciate fans more so now.
17. Are the Monkees close to each other?
Yes and even more so after touring on the road and spending every day together.
18. Question to Bobby: what was it like to tour with them?
Beautiful. The tour exceeded everyone's expectations in audience reaction and everything. And they were beautiful to us and always looking out for us to see that we got same considerations as they did as headliners.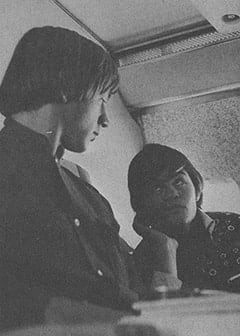 19. What was it like backstage?
Very hectic. We would arrive an hour and a half earlier than Monkees and do preintermission show. After intermission the Monkees would arrive in a limousine and have to push through crowds into auditorium. They would do 8 tunes, playing on instruments and singing. Then one by one they would come back and do a solo spot backed by my group. They later came back for group spot. Leave stage and head straight for limousine with youngsters breaking through (because you always find a few get through the line) and off to airport before a lot of fans realized the show was over.
20. Was it hard for other groups to go on before the Monkees?
Don't think it was hard. All of the eight cities were so receptive to us even though they came to see Monkees.
Magazine: Flip
Authors: Bobby Hart, Tommy Boyce
Published:
Publisher: Kahn Communications Corporation
Pages: 51–53