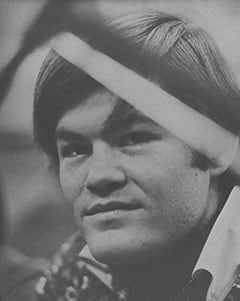 Our scoopy series of Pop Probes usually includes a long take-out with a super-star on his unexpected reactions to wild words and thoughts which we throw at him!
The day we were supposed to flip out with Micky Dolenz was one of the busiest days The Monkees have had yet! But Micky; who's a believer in FLIP (as are all The Monkees), asked us to whiz through an interview-on-the-run with him because he knew our deadline was almost on top of us!
Here are Micky's reactions to our ten thoughts, given in a burst of FLIPness which probably took less than ten breathless seconds!
Are you ready? 10… 9… 8… 7…
| Flip | Micky |
| --- | --- |
| Beatniks | Table |
| Mod | Bottlecap |
| Solitude | Salad |
| Bellbottoms | Cauliflower |
| Zoo | Hole in the wall |
| Telephone | Girl |
| Girl | Telephone |
| Concerts | Girl |
| Travel | Concerts |