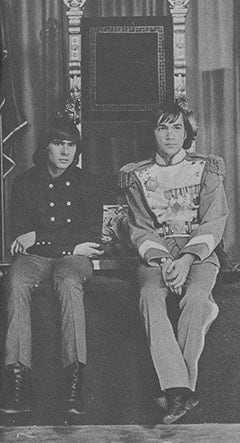 Nobody could ever really replace PAUL REVERE and his RAIDER crew on DICK CLARK's "Where The Action Is" telegroover. That kookie-kickie band is sure of a job as long as they want it but maybe they have other plans.
The cash they get from the show is less important now than the chance it gives them to plug their records and hype their rep as concert headliners. They need the exposure; at this writing the Raiders have but one single and one album among the Top 100 while the Monkees have three singles and an LP.
Out of the evergreen Pacific Northwest, Oregon, Washington and Idaho where the Raiders came, comes now a new troupe of troubadors to serve as regulars on W.T.A.I. Dick Clark inked Don and The Good Times to a three year pact for TV and Caravan road shows. Dick can pick winners. Don's melodeers haven't had a national hit yet but they soon will, he predicts.
Don and his Good Timers consist of five 18-to-21-year olds: leader Don McKinney, vocalist, Don Gallucia, organ, Bob Holden, drums, Ron Overman, bass, and Charlie Coe, an early pre-fame Raider guitar. They wear custom-made outfits costing $10,000; head-to-toe white velvet suits with guitars to match, tailored silk tuxedos with top-hats and other farout threads. Now the Good Times are groomed for the Big Time.
Q. Why does Davy Jones get all the love action in the Monkee zoo? A. The scripts are written that way. Q. Why are the scripts written that way? A. Because he's so cuddly cute. Q. How come he rates most of the feminine heart throbs even offscreen? A. Because he's so cuddly cute.
"Dave gets all the girls on and off the screen," Micky Dolenz sighed. "I've adjusted to the fact that I'm just a clown who everybody laughs at and nobody loves."
Rockin' Rodney Bingenheimer, 20, Davy's look-alike stand-in, is often mobbed by Davy-lovin' pussycats waiting at the stage gate to kiss, muss and mess up their pint-sized Monkee Romeo. We saw it happen. He was leaving the Monkee set with a date, curvy blondette Jodi Gable, when a gang of love-hungry girls jumped him in the dark. By the time they realized their mistake Rod's clothes were awry, his long hair a bramble bush and his face was covered with delicious red, champagne ice, cherry lame, mocha chiffon, beige caper, coral vanilla, white icing, Spanish gold and petal pink lipsticks. Rodney, sometimes called the Mayor of Sunset Strip, greedily accepted the caresses.
"I can't hardly get enough kissin' to suit me," he breathed, heavily but happily.
The real Davy Jones had sneaked out the back door.
Screen Gems' problem is finding young actresses under five-feet-three to play romantic interest to shorty Davy. Height is no barrier to him personally; most runty cats dig taller chicks; and Dave's no exception to this glittering generality. He also likes mature-minded 14-up dolls who don't titter, twitter, giggle, travel in gangs or come on like teenie-boppers chomping gum like calves chewing cud.
Already headliners on stage (personal appearances), home screens and records, the four fruggin' fellows are now keen to conquer the theater screens in glorious Technicolor and stereo-phonic sound. The best scripters Screen Gems can buy are hammering their writing machines on a screenplay which has to be original, nothing like their telley shows.
The Monkees' tee-hee teevee'er ranks below the Top 50 in national viewer popularity per the Nielsen ratings which is a bare passing grade. Micky explained this:
"The show isn't aired in 30 Nielson-rated cities, that's why. We're up in the high 20's in places we're seen and Nielson rates."
Axing the Monkees would be plain premeditated murder.
The Rolling Stones don't seem to care whether they ever start shooting their picture, Only Lovers Left Alive. Ditto the Beatles who are totally non-interested in a film playing themselves again. Brian Wilson tells us the Beach Boys will do a series of theater and TV shorts pending a screen script for a full-length feature. The RB's Bobby Hatfield and Bill Medley hired boss film writer Jerome Brady full-time to do nothing but scriven a screener for their special talents.
Sonny and Cher are sweating out the boxoffice verdict on their cine-masterpiece, Good Times.
C'Mon Let's Live a Little, starring Jackie DeShannon, Bobby Vee, Jill Banner and Eddie Hodges, could be the sleeper of the year. Other youth-oriented pix set for the near future: How To Succeed In Getting Buried Alive Without Really Dying, Lover Boy, Or How I Became Depraved Seeking Self-Expression, Sunset Strip, Trip On The Strip and Riot On Sunset Strip.
Many British music stars spend more time in the U.S. than the U.K. Beautiful friendships and romances have blossomed on this side of the Big Damp—but has it ever occurred to you that the British blokes never marry American girls?
What they are is hit-and-run lovers. Don't fault them for it. One-nighter tours allow no time for quickie friendships to blossom into life-long marriages. Visiting English idols usually have a VSGF, Very Special Girl Friend, in Hollywood where they remain awhile longer to vacation or record new disks. But even two or three weeks in a now-and-then basis isn't enough to develop a love deep enough to make them share their life.
Also let's face it, American women have the reputation among foreigners of making lousy wives who don't like to cook, do the washing and ironing, hang and beat the carpets, dust the furniture, carry out the garbage and perform other routine household duties. They spend more time on themselves than their homes and husbands, foreigners believe.
Mary Hughes, the blonde sexpot of the AIP bikini movies, may be the first kid on her block with a British husband, to wit, Jeff Beck of the Yardbirds.
Both Peter and Gordon are engaged to British birds, it is said, who are patiently waiting their return from America. Another hazard has been added to the tour complaint list. After they played two of twenty scheduled concerts, the promoter went bankrupt and left them stranded. Where do they go from here?
"We'll keep doing our best though we don't know exactly in what direction we are headed," said Gordon Waller. "Everybody's tripping out on psychedelic music, electronic music, freak-out scenes and bluesy beatsongs. We'll be satisfied if we can get a good song and a good arrangement. We won't get worked up about those easy-come-easy-go music fads.
Blues are happening all over. The Blues Projects are grooving with Projections, Paul Butterfield's Blues Band hit the LP charts with East-West, the Motley Blues Band struck gold with Little White Lies, and the Blues Magoos are high on the charts with two, Psychedelic Lollipop and We Ain't Got Nothing Yet.
The Blue Magoos goofed with their first release, Tobacco Road, making the record five instead of the usual 2 ½ minutes long. Pop stations won't play five minutes disks as they cut into their commercial time where the loot is. Artists and diskeries would be happy to give buyers full value for their money and it wouldn't cost them an extra dime for a longer play single. They can't because the longer ones would die a-bornin' from lack of airplay.
The three top popsongs voted by juries in six European countries were Herman's "No Milk Today," the Beach Boys' "Good Virbations [sic]" and Sonny and Cher's "Little Man."
Herman blew his mind when some evil-smellers and dirt-snoopers professed to hear double-meanings in his No Milk Today. Wrathed he: "They are dead right, No Milk Today has hidden drug meanings to people who can read sex-drug double-talk in Over The Rainbow. And what really goes on in Yogi Bear's cave?"
Not all parents are antique fuddy-duddies who don't know where it's at. We know many groovy moms and dads who don't put on the big gung-ho act with their kids and are a joy and delight to have around the house or a party with. To name a few of the many swinging pappies: Paul Revere, Paul Jones, Ringo Star, John Lennon, John Phillips, Tom Jones, Al Jardine, Dennis Wilson, Rick Nelson, Rick Huxley, Lenny Davidson, Ray Davis, Jim McGuinn, Jimmy Darren, Bobby Darin, Bobby Hatfield, Bill Wyman, Bill Medley, Mickey Callan, Mike Landon, Mike Nesmith, Edd Byrnes, Vince Edwards, Ryan O'Neal, also oldies but goodies Frank Sinatra and Dean Martin. Marvy moms: Marianne Faithful, Brenda Lee, Audrey Wilson, Muriel Malumby, Tuesday Weld, Stella Stevens, Jenny Maxwell and Pet Clark—with more coming up soon.