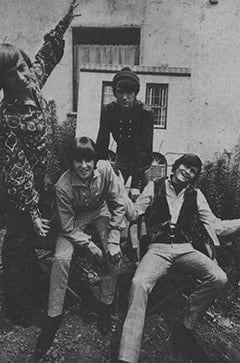 WIN the MONKEES' TREASURE CHEST and the great big wonderful mess of goody-goody-goodies in it! IT's SO E-Z!
ATTENTION all of you Monkee-maniacs—and that includes just about everybody: YOUR BIG MOMENT HAS COME! Davy, Micky, Mike and Pete have an ultra-gigantic, super g-r-r surprise for you! The Monkees have selected 16 as the very first magazine to feature their very first national Monkee contest—and that means goody-goody-good news for you all the way! Just take a look at the list of Monkee treasure chest goodies that you can get for doing absolutely nothing!
DAVID JONES will give you a beautiful ring similar to the one he wears, with both your initials and his initials engraved inside—plus a personal note authenticating that the ring is really from him!
PETER TORK will give you a blue and orange paisley print Hamlet-type shirt (similar to the one he has on in this picture) from Hollywood's famous DeVoss Mens' clothing store.
MIKE NESMITH will pass along to you one of his famous "wool hats," just like he wears on The Monkees TV shows.
MICKY DOLENZ is saving one of his very own turtleneck pull-overs to send to you!
Aside from each of the very personal Monkee gifts listed above—get a load of these bonus prizes that you will also win:
An autographed copy of the Monkees' new Colgems LP.
Your very own three-speed portable record player to play it on.
A huge, personally autographed, living color pin-up of Davy, Pete, Micky and Mike.
And, last but not least, a full year's free subscription to swinging 16 Magazine!
To get the whole kit and kaboodle, all you gotta do is print your name, address, etc. on the coupon, cut it out and mail it to the address on the coupon. Like we said, absolutely nothing!
All coupons will be dropped inside a barrel. The barrel will then be revolved and 16's editor, Gloria Stavers, blindfolded, will pick eleven coupons from the barrel. The first coupon she picks will be the grand prize-winner, and the sender of that coupon will receive the Monkees' treasure chest with all the goodies it contains!
The next ten coupons she picks will also win prizes for their senders. Each of these contestants will be awarded an autographed copy of the Monkees' new Colgems LP and a full year's free subscription to 16 Magazine.
Ready? Set? Well, the GO f'r goodness sake—and wing away that coupon this very little ol' minute!