Given for Highest Achievement by Young Stars in the Fields of Motion Pictures, Television and Records
16 raises the curtain on its annual GeeGee Awards for outstanding achievements by young stars in motion pictures, television, records and announces its brand new GOLDEN GALAXY AWARD to the most popular performer of 1966.
As always, the winners of this year's GeeGee Awards, for extraordinary performances during the past year, were chosen by 16's readers. They were chosen by you in the ballots and letters numbering in the millions you mailed to us day after day, in which you told us who were your favorite young stars. We tabulated each and every vote, and the stars you see on the next three pages are the stars you voted tops in their field.
To the winners of this year's GeeGee Awards, 16 speaks for every 16 reader in saying, "Congratulations and all good wishes for a long and successful career."
Golden galaxy award "star of the year": Mark Lindsay
Best dramatic movie actor: John Phillip Law
Best dramatic movie actress: Hayley Mills
Best musical movie actor: Peter Noone
Best musical movie actress: Shelley Fabares
Best television actor: David McCallum
Best television actress: Stephanie Powers
Best daytime television show: "Where The Action Is"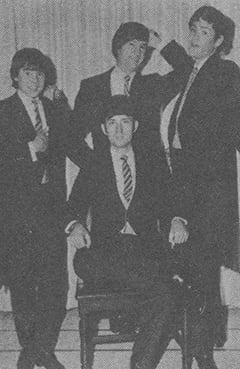 Best night-time television show: "The Monkees"
Best American male singer: Mark Lindsay
Best American female singer: Cher
Most promising American male singer: Keith Allison
Most promising American female singer: Nancy Sinatra
Best British male singer: Donovan
Best British female singer: Petula Clark
Most promising British singer: Ian Whitcomb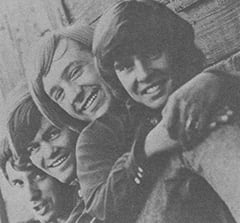 Best American male group: TIE—Paul Revere & The Raiders; The Monkees
Best American female group: The Supremes
Most promising American group: Dino, Desi & Billy
Best British group: The Beatles
Best LP American male: "Changes"—Johnny Rivers
Best LP American female: "The Sonny Side Of Cher"
Best LP American male group: TIE—"Pet Sounds" - Beach Boys; "Parsley, Sage, Rosemary And Thyme" - Simon and Garfunkel
Best LP American female group: "Supremes A Go Go" - The Supremes
Best LP British group: "Revolver" The Beatles
Deejay of the year: Ron Riley - WLS Radio Chicago
Best syndicated television show: "The Mike Douglas Show"
Outstanding achievement American: TIE—The Mamas & Papas; Bob Dylan
Outstanding achievement British: Herman & The Hermits