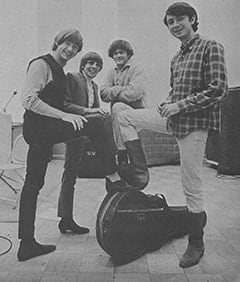 The Monkees are a month old now—and getting madder by the minute!
But Peter, Micky, David and "Wool Hat" aren't mad at all. They are four of the quietest, calmest pop people in the world. They're so cool, as a matter of fact, that they took out a bundle of time in the middle of some last-minute frantic filming to flip-out! With the scoops starting in this issue, and the spec surprise they've saved for us, FLIP becomes The Monkees' favorite teen magazine!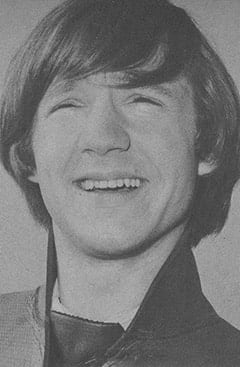 Peter Tork, whose dad is a college professor, told us that following in his father's footsteps was kind of ended when a couple of college deans in two different parts of the country suggested that he become a drop-out! He still doesn't know what they had against a red-haired, freckle-faced banjo player! After his first try, Pete worked in a thread mill and after his second (and final) attempt, Pete wandered down to New York's groovy Greenwich Village.
In the village, Pete became a folksinger in a coffee house which was a "pass-the-hat-house." No salary, but whatever the crowds would drop into his (large) hat. After a couple of months of this beggar's life, he joined The Phoenix Singers for a six-months tour, which took him to California—where, within two months, he became a Monkee! Which, Pete cheerfully says, is a heck of a lot more fun than being an English professor!
If you ever catch The Monkees breaking up off-stage, look for Micky Dolenz. The reason they're laughing is probably that Micky is making terrible faces and doing dreadful (but hilarious) imitations! Micky's the only Monkee who's already a TV star. At the age of ten, Micky picked up the starring role in "Circus Boy," which played for a couple of successful seasons. His dad, by the way, is also an actor—and starred as "The Count of Monte Cristo."
Micky learned to play the drums for the show, and he's already become one of the classiest thumpers in Hollywood. He can also twang a guitar and sing up a storm. But Micky's also prepared for those days when he might find the show business road blocked off. He's studying architecture to make sure that he'll always have a roof over his head—even if he has to build it himself!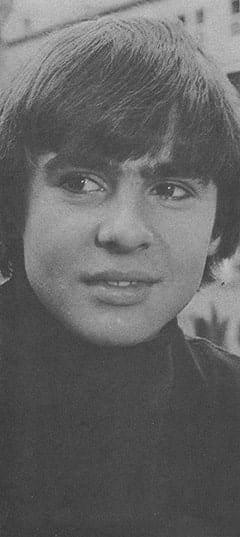 David Jones is the smallest Monkee. At 5–3, David looks more like a jockey than a favorite of disk jockeys. Which is exactly what he started out to become. Born in Manchester, England, David hoped to become a raving rider. But after exercising horses for several of those miserable raw and rainy. English mornings, David gave up his ambitions. "It looked easier than it was," he says. But while he left the horses, he had made friends with some of their owners—who also happened to be theatrical executives.
That got him the key role in "Oliver," a winning role in "Pickwick," and a movie contract in the U.S. Now that he's as far away from nasty British weather as possible, David is delighted that he came in out of the rain to become a star. And, what's more, he doesn't want to grow up!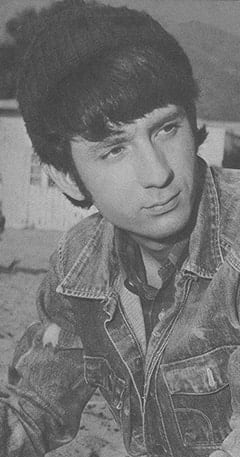 Like Zal's sombrero and Felix's cap, Mike Nesmith wouldn't trade his wool hat for a season of TV ratings bigger than "Bonanza!" Which explains why he's called "Wool Hat" Nesmith!
Mike's the only Texan in the group: "Mike and John and Bill!"
Mike left his hometown of San Antonio to work in a Los Angeles folk club, he didn't expect to become as successful as he became. Then, when he spotted an ad for "a folk-oriented-rock-n-roll singer," he tried for the part as a lark. And became Monkee!
(Look for more Monkees business in the next issue of fab FLIP!)