Have you met them? If you haven't, quicklikeabunny spin your TV dial each Monday evening at 7:30 to NBC—and enjoy the free-wheeling antics of this outasite quartet!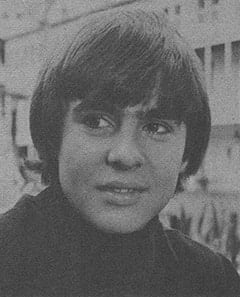 Some people are born with a great will to succeed. That's Davy all over. He came to life in Manchester, England, on December 30, 1946 (Actually 1945)—a bundle of energy who developed into a tough, compact lad. When he was old enough, Davy headed for England's Newmarket Racetrack and became a jockey, and spent his time between horses going to places where England's turned-on set was producing the great new musical sounds. To Davy, it was ever so much more exciting than racing so he switched to music and acting.
He arrived in the U.S. as the Artful Dodger in the English hit musical, Oliver, then starred in another musical, Pickwick. Now, of course, Davy is a bright light in the new NBC-TV series, The Monkees. He shares a small rented house in West Los Angeles with Micky Dolenz.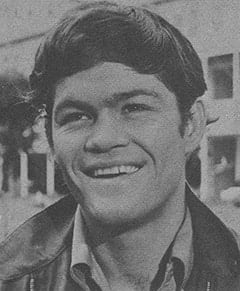 Micky is no stranger to Los Angeles. Nor to acting, either. He was born in L.A. on March 8, 1945, the son of an actor. At ten, he became the star of a TV series called Circus Boy, which ran for three years. Later, while he was still in school, he made his move toward music. Having become a drummer-singer-comic and all-around noise-maker, he left a Los Angeles technical trade school to become the lead singer in a pop-rock group called The Missing Links. But he still continued to act in TV, appearing in Peyton Place, Mr. Novak and other series.
When an ad was published in Daily Variety calling for boys to audition for a new TV comedy series for the young set, Micky applied and was made a Monkee. As noted, he shares a pad with David Jones—and goes put-putting around on a motorcycle.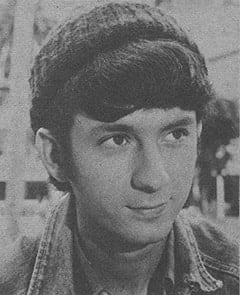 Mike was born in Dallas (Actually Houston), Texas, on December 30, and taught himself to play guitar when he was about 19 years old. He didn't know any songs and he couldn't read notes, so he composed his own material.
While he was enrolled at San Antonio College, Mike began to make appearances—first as a country-and-western singer-guitarist and eventually as a performer of other varieties of today's sound. After college, he went to Los Angeles and teamed up with a bass player and a drummer to form a trio, which was broken up by the draft board.
Mike's next stop was Ledbetter's, an L.A. folk club. There, he developed a following by singing and playing his own material. Now, of course, he is a Monkee—known as "Wool Hat," because of the green knitted hat he is fond of wearing.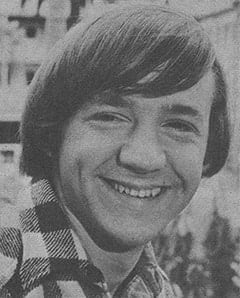 Peter was pretty much of an expert on the guitar, ukelele [sic], five-string banjo and bass even before his voice changed. Later, he became acquainted with the piano, French horn and other instruments.
Born in Washington, D.C., on February 13, 1944 (Actually 1942), and raised in Connecticut, Peter attended Carleton College in Minnesota with every intention of becoming a teacher. He abandoned that idea, though, and moved on to New York City's Greenwich Village, where he performed as a singer-musician in various pass-the-hat hideaways where the music was always new. Next, he journeyed to Los Angeles and performed in various clubs, including the Troubadour in West Hollywood.
This led to an audition and a starring role in The Monkees. See it and have a ball.