Digger's been digging and as reported last month when we left our hero, ELVIS PRESLEY, he was not saying a word to confirm his hotly rumored secret marriage to PRISCILLA BEAULIEU. And there has been no explanation of why they both have been seen wearing wedding rings. Lots of dating in night clubs. (Elvis used to hate them.)
About the house. As we said, Elvis got one with a high wall and complete privacy. So, who's allegedly selecting the fancy furniture? The heroine, of course, Prissy. So Elvis, if you and Prissy haven't switched and hitched—well, it still looks good on you.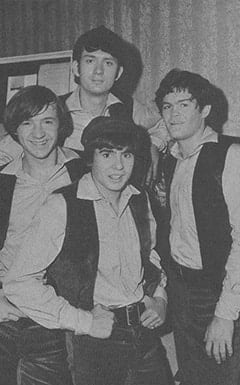 That new ring-tailed, runaround TV series "The Monkees," that is scheduled for the Fall on the tube cube, is said to be the hottest laugh program since Don Adams got Smart. The show, which is a take-off on the Beatles, is loaded with Zip and Zow. Watch for it! It'll be a real gas.
SONNY AND CHER have the wildest new plans for new autumn way-out, way-out fashions. We hear—yipes—that Cher is going to cut her hair or curl the hang out of it and Sonny says—double yipes—that he is seriously considering wearing a suit and tie!
LIZA MINELLI is somewhat disturbed because so many people can't make up their minds whether she sings like her mom, Judy Garland, or like funny-girl BARBRA STREISAND. "I want to sing like me," Liza informs Digger.
You ought to see the hurry and scurry at Warner Bros. over PETULA CLARK. The "Downtown" Girl went uptown to the movie studio, got the red carpet treatment and the most extensive and expensive screen test the studio has given anybody since Doris Day!
THE ROLLING STONES have been signed to appear in a movie and they won't be seen as themselves. The way we hear it they just might not sing at all! They are skedded to play straight dramatic roles, independent of each other and the title of the flick is "Only Lovers Left Alive.
Photographer RON JOY is the favorite flick of NANCY SINATRA. They travel all over together and are currently, at least, a constant laughing, happy, dancing couple in town. Nancy and Ron just smile when someone says, "Is it serious?"
We asked Nancy. She shook her head, "Not yet!"
BATMAN ADAM WEST, an extremely bright and happy guy, really puts up with a ribbing when he water-skis in his black suit. Everyone screams at him as he goes by. "Where's your cape, Batman?" Another scream, "You're losing weight because your tights are wrinkling around your knees!"
BATMAN: "So I'm losing weight, but making money. I used to lose weight and not make a penny. Maybe I should get back on exalted malteds."
HOPPIN AND POPPIN:
KATHY LENNON, the only single Lennon sister, left and moved out of her home for an apartment, alone. But it was just down the driveway to the guest house from the "big house."
JOHN GARY, the singer your parents get the cools for (as you, too, he hopes), has been scheduled to appear on more than thirty TV shows in the next two months. Most of the programs are big time. Digger: "John, won't you suffer from over-exposure?" John: "No, Digger, over-exhaustion."
Looks like BARBARA PARKINS really popped at RYAN O'NEAL, in one of L.A.'s biggest nightclubs. She is reported to have bopped the man she says is "the greatest lover on 'Peyton Place,'" But wouldn't you know it, they were dancing together, meek to meek, a few nights later at the swash Daisy Club.
If you're grievin' about the DICK VAN DYKE show leav'n, don't. You'll see all the cast in the movies and on new and very groovy TV shows. Not together, though. Mary Tyler Moore got lots of offers. Dick so so busy he can't stop.
But Digger must.
Later.
In the November FLIP. On sale September 8th.